Playboy Is Coming For All The White Claw Parents Out There
Are you ready to play...hard?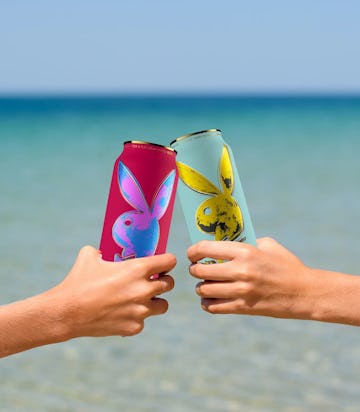 Playboy/PlayHard
The first rule of being a White Claw parent is that you do not talk about being a White Claw (or TRULY) parent. If you're of a certain age, and you're drinking outside, and it's been that kind of day, let's face it, you don't always want a nice craft beer or a homemade margarita that's going to take too long to mix up. For those in their 30s and 40s, whose best bet for having a drink with their friends is a conversation over a picnic table, while your kids run around like banshees in the yard, the hard seltzer craze has become the omnipresent Four Loko of adulthood.
Enter Playboy — a media brand with a long history of publishing incredible writing by Chuck Palahniuk, Kurt Vonnegut, Margaret Atwood, Ursula K. Le Guin, Frank Herbert, and Stephen King, as well as having a reputation for having done a bunch of other stuff you're probably vaguely aware of — with their new line of hard seltzers that are so hard, that they have the word "hard" in them.
Play Hard is here, and let's just be totally honest, if it's a slightly upscale version of White Claw, a ton of tired parents are gonna be into it. According to the press release: "The inaugural release connects with Playboy's fashion-forward Gen Z and Millennial[s]..."
However, let's face it, older millennials and younger Gen-Xers might be the true demographic here. Someone you know on the PTA has a Playboy bunny tattoo they're hiding, and you're just not gonna judge, because who has the time?
The flavors of Play Hard have names that are no more or less alarming than White Claws flavors, including Mango Dragon Fruit, Grapefruit Yuzu, Pineapple Passion Fruit, and Apple Prickly Pear. All of these sound like very rare varieties of Jolly Ranchers. I mean, perhaps Playboy missed the memo from SNL and forgot to make a flavor that tastes like "men's jackets."
Will these actually be good? Will you feel cool drinking a Play Hard? These are the wrong questions. Because if somebody puts a Play Hard in your hand at a BBQ, and you're not immediately making a James Bond-ish pun about the name of the drink, are you even a real dad?
According to Playboy: PLAY HARD will be offered online at www.playhardseltzer.com at launch and be available in select retailers in Miami and Orlando with plans to expand into additional markets throughout 2024.