Confessions Of A Craft Beer Dad
For the past decade, Josh Bernstein has followed the wild growth of the craft beer industry — alongside his young daughter.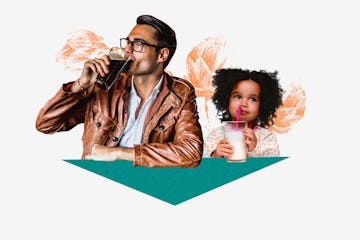 Ariela Basson/Fatherly; Getty Images, Stocksy
We may receive a portion of sales if you purchase a product through a link in this article.
During fall 2013, I found myself overwhelmed by two newborns, only one of which was human. That September marked the release of my second book, The Complete Beer Course, a 320-page guide through the confusing and quickly expanding craft beer world. I finished my book tour and returned home to Brooklyn just two weeks before the birth of our daughter, Violet, in November.
Some new dads celebrate with cigars. That seemed off brand for a journalist and author specializing in beer. Instead, I marked the occasion with a fresh Sierra Nevada Celebration, a cold bottle in one hand, a warm newborn cradled in the other. I was officially a Craft Beer Dad, an IPA never far from the diaper-changing station.
I didn't intend for my parenting style to become a cliché, but the timing was ripe to embody a hops-soaked trope.
My book and kid were born during last decade's rise of craft beer, an era that saw breweries germinate inside America's fallow warehouses, factories, and Main Street storefronts. The budding breweries were a different breed. Those fizzy years found a rise in intensely bitter IPAs and incendiary ghost pepper ales, and even adding bull testicles to a stout.
I didn't intend for my parenting style to become a cliché
Beer drinkers too were evolving. The Craft Beer Dudes, a sophisticated crowd with strong opinions on yeast strains and hop varieties, beer styles and stylish glassware, were growing up. Most of them had careers. More of them were getting married. Some of them even, gasp, had kids. Bottle shares became less of a priority when you were trying to bottle feed a baby, last calls and wake-up calls occurring on new timelines.
It was my journalistic duty to decode the dizzying developments. That meant drinking beer. After daycare pickup, I would bring Violet and our Corgi-Chihuahua dog, Sammy, to a local park. Violet crawled on the grass, Sammy scampered, and I sipped session IPAs, lemonade-infused radlers, and refreshing sour ales in search of my ideal dad beer. (I even wrote a column for First We Feast called Beer With Baby.)
Parenting seemed easier when samples of freshly canned hazy IPAs were mailed to my apartment, delivered alongside diapers.
Not long after Violet was born, New York State loosened its laws to let brewery taprooms serve pints of beer to stay. (Breweries previously needed to offer food to legally sell pints.) Fledgling NYC breweries like Other Half, Finback, and Threes opened taprooms, and they became destinations when I was on dad duty and my wife needed some alone time.
Violet crawled on the grass, Sammy scampered, and I sipped session IPAs
Violet never napped inside our apartment. She instead conked out when we drove a car — a rare occurrence — or strolled her somewhere. So I'd roll to Other Half to drink IPAs, before popping by Strong Rope for a proper British-style pub ale.
I received tons of side-eyes, tsk tsks, and headshakes during those (slightly) blurry early days of parenting, especially when I taught Violet how to climb stairs at a taproom. Or bottle-fed her while sitting at bars. Who needed a drink more? I've been up since five a.m. Daddy wants a double IPA.
To be a new parent is to have a seven-pound bomb detonate your existence. As you rebuild, you find some pieces no longer fit, or they can be used to build fresh routines and ways of being. I wrote taproom visits into my personal parenting playbook, adding pages with each passing week. The beer was great, don't get me wrong, but conversation with verbal humans ran a close second.
It was easy to bring Violet to taprooms when she was wee. A napping infant has blunt demands for food, warmth, and dry diapers. But as Violet grew older our taproom visits grew rarer. I could've anesthetized her with an iPad or let her roam around while I crushed pints, but I never wanted to be that kind of Craft Beer Dad. She wanted to go to playgrounds, parks, and children's museums, not watch her dad pound a pastry stout inside a concrete room.
These days, I mainly visit brewery taprooms without Violet. I instead bend elbows with friends for beers (pilsners, preferably) and banter. Some want to discuss hop varieties, while others just want to vent. Brewery taprooms are no longer just about beer. Over the last decade, they've matured into neighborhood hubs offering beer, as well as wine, cocktails, nonalcoholic drinks, and community. I'll often spy parents with young kids, pacifiers strewn beside empty pint glasses.
Sometimes I get a little wistful. After all, Craft Beer Dads grow up so fast.
Joshua M. Bernstein's sixth beer book, the tenth-anniversary edition of The Complete Beer Course, is out this June from Union Square & Co.