Pierce Freelon Is Rewriting The Definition Of Family Music — And Tackling Hard Topics For Kids
This Grammy-nominated dad wants his music to reach everyone but isn't afraid of tough conversations.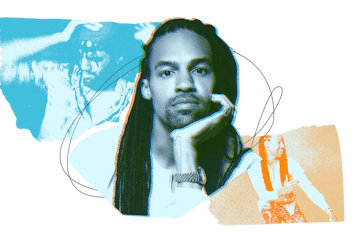 Ariela Basson/Fatherly; Chris Charles
Pierce Freelon has nothing against "kids music." But he doesn't want his music to be described that way. Instead, he prefers a different term for the kinds of albums he creates. "What I've strived to create and produce is family music directed towards children," Freelon tells Fatherly. "But the music is universal in its sonic appeal." What this translates to for most families is that the music of Pierce Freelon is great music that just happens to be kid-friendly. His latest album, AnceStars was recorded with his mother, Nnenna Freelon, the legendary jazz singer. Together, son and mother navigate family themes about where we come from — and honoring those forebearers in the "spirit world." In essence, Freelon and his mother made an album that explores mortality, but with celebratory and beautiful music.
"Here's the thing. Everyone who's ever born in this world is going to pass on," Freelon says. "If you're lucky, you are going to experience loss in this life. If you don't, then that means you lived a very short life. Oftentimes, for kids, that first loss is a grandparent. Sometimes it's something more intimate. It could be a sibling or a pet, it could be a parent, God forbid. And so how do you provide kids with tools to be able to have the conversation? For me, the album AnceStars attempts to do that in a way that's really light and that kind of demystifies some of what can be a taboo or scary topic."
Freelon is married to Katye Proctor Freelon, with whom he shares two children: their daughter Stella, who is middle-school aged, and his son, Justice, who is in high school. Freelon emphasizes that his children are part of all of his creative projects. Justice was the inspiration for his picture book Daddy and Me: Side By Side, another project that explored the concept of intergenerational memory, and how parents talk to their kids about where they've come from. Daddy-Daughter Day, meanwhile, was inspired by Stella.
Clearly, Freelon's family is a big part of his ongoing inspiration, but he's also motivated by the sheer power that art can have to transform the lives of families everywhere. His previous album, Black to the Future, explored the history of Black lives and families, while his groundbreaking album D.a.D was very much about the journey of fatherhood; an album for fathers as much as it's for children. See? Freelon is serious about these shared family experiences. And in terms of artistic models, one of his biggest inspirations is LeVar Burton. In fact, he likens the concept of some of the more family-friendly versions of Star Trek to his own art: making things that families can experience together.
"I'm really feeling that Star Trek metaphor because that's exactly how I feel about my work," Freelon says. "Just the ideas and the themes that Gene Roddenberry planted into the genre were just really profound and thoughtful and accessible for all ages. I think through music and through books and through storytelling and film and television, it's really important to introduce kids to this spectrum of emotion so that they can begin to anticipate what will inevitably be."
In addition to chatting with Pierce about his wonderful albums and books, he also gave us some pointers as to how he does dad duty on the daily.
What's your favorite thing to do together as a family?
It's a toss-up between an Uno tournament — with Draw 2/Draw 4 stacking — or playing basketball in the driveway.
If you have an hour to yourself, what are you doing?
Nappity nap napping!
What's your favorite piece of clothing or accessory that you own?
A denim jacket with West African Mudcloth woven into the shoulders, back, and sleeves.
Name the most important skill you're passing down to your kids.
Social-emotional intelligence and empathetic communication.
Give us a book, record, movie, or TV recommendation.
Me and my mom's new album: AnceStars!
If you could give one piece of advice to your former kid-free self, what would it be?
If "kid-free" is myself as a kid, free of responsibility — the advice is: stay curious and have fun. If "kid-free" is myself as an adult, free of kids — the advice is: stay curious and have fun.
You can check out all of Pierce Freelon's music here (or listen to AnceStars above). Also, check out Freelon's heartwarming tribute to LeVar Burton below.