The Wrong Instagram Hashtag Can Put Your Family Photos in Some Very NSFW Places
If you're not careful, even an innocent hashtag can have organize a photo into not-so-innocent places.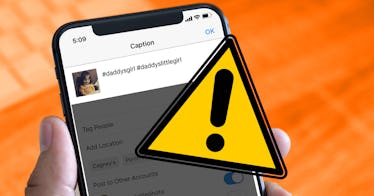 Children across America are heading back to school and, as is custom, parents are flooding social media with staged, impossibly cute photos of their kids in uniforms and first day outfits. And because what is social media without good branding, many parents, accompany these photos with such Twitter and Instagram hashtags as #backtoschool, #momofboys #Boymom #firstgrade and #itgoesbytoofast. Some are also using the hashtag #daddysgirl and #daddyslittlegirl. Innocent enough, right? Not so fast. In yet another example of this-is-why-we-can't-have-nice-things-on-the-Internet, the latter two hashtags are also commonly affiliated with sexual communities. Using hashtags without proper precaution means that the photo associated with them will be catalogued amidst a sea of very NSFW imagery.
There are more than 2.7 million pieces of content on Instagram with the hashtag #Daddyslittlegirl. While, yes, among them are plenty of cute photos of dads and their daughters enjoying the beach, a walk around town, or standing in a first day of school outfit, they become associated with a number of sexual posts. Hashtags are a library combing tool. If someone wants to search something on Instagram or Twitter, they can find any piece of content relating to that hashtag. Therefore, posting a photo of your child on a public profile with any hashtag means anyone can see that photo if they simply search for or click on the hashtag itself.
And #daddyslittlegirl and #daddysgirl offer some very specific content. It's not too much of a leap to understand why. "Daddy" is a commonly used sexual term frequently found in BDSM and gay communities where it is used to denote a dominant power role orientation. There are many communities in the BDSM world where power dynamics are at the forefront and some partners categorize themselves as Daddy Doms (DD) and others as Little Girls (LG). Even more vanilla couples use the term occasionally during sex.
The point here isn't to shame sexual predilections. Consenting adults can do what they want to do. Have at it. But one glance at the gallery proves why parents should check their hashtags. In the hashtag search, photos of infants and toddlers holding their fathers hands are sorted amidst such posts as adults in leather outfits on all fours are on a bed with the caption "Can't wait for daddy to get home" with #daddysgirl as one if its hashtags. .
Another photo featured in the collection is a photo of an adult woman's body wearing kid-like overalls and a pacifier with emojis of a paddle, a baby bottle, and one that says "Yes Daddy." (Other hashtags on the photo include #bdsmsubmissive and #adultbabydiaperlover.) Yet another post features an adult woman doing "ageplay" in baby-like garb holding a baby blanket. A separate post features a a text message bubble that says, "I love the little moans u [sic] make when I'm teasing you."
Twitter has more of the same. While yes the majority of the images populating the #DaddysLittleGirl hashtag are innocent photos of kids, the popular use of the hashtag reveals the seedier side of the Internet that one can easily slip into. It also reveals that parents need to be better at basic online safety when it comes to their kids.
Parents who choose to post photos of their kids should do so without using a public indexing tool or put their own profile on private. After all, while you likely don't want photos of your kids celebrating Halloween next to photos of leather-clad couples, you also don't want random strangers to find your profile and start looking at your children. Hell, even more innocent hashtags like #icecream or #afterschool could be exploited by someone who wants to see your kids. You never know.
The moral of this story is to take a beat before posting any photo. Set your profile to private (Even if you tag a photo, it won't show up on a public image search) or don't post the picture at all. At the very least, do a hashtag search before using it. Because even the most common of phrases can place images of your family in places you really don't want them to be.
This article was originally published on