It's Gonna Be May! Resurfaced N'SYNC Video Features A Shocking Cover Song
A newly resurfaced video of an NSYNC performance will have you questioning your memory.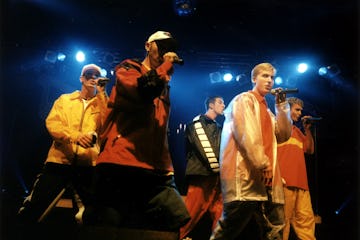 ullstein bild/ullstein bild/Getty Images
A newly resurfaced video of an NSYNC performance has been racking up views across social media. In the video, the group is singing a cover song for an obscure song that has ties to Tom Hanks, and it's a lot different than the typical music NSYNC performed during their 1999 tour.
Nearly 25 years ago, NSYNC embarked on a tour that went by a few names, including NSYNC in Concert or the "Ain't No Stoppin' Us Now Tour." It was a major tour lasting 18 months, where the group visited over 100 cities and played over 200 concerts.
Oh, and the group performed in a pay-per-view TV special during that tour as well, where they played an interesting cover song that might be better than the original. The performance aired as a Fox Family Special Presentation, likely to allow people who couldn't see NSYNC in person to be able to have a similar experience.
The whole pay-per-view concert is available to view on YouTube now, but a clip of one of the 14 songs NSYNC performed, taking listeners through the decades, recently resurfaced. The song was selected for the group's 60s-era performance, and they opted for a song from a 1996 movie directed by Tom Hanks set in the '60s – That Thing You Do.
Wearing matching maroon-colored suits, JC took the lead vocal while the other band members got behind the instruments, keeping the vibe from the original "That Thing You Do" song. It's a super unexpected song choice and a very unexpected performance because who knew JC could sing like that or that the other guys could play instruments too?
It's definitely worth a watch. And if you haven't watched the 1996 movie, That Thing You Do, directed by Tom Hanks, watch that, too; it's on Disney+.