Tom Hanks Named His Favorite 3 Tom Hanks Movies: Here's Where to Stream Them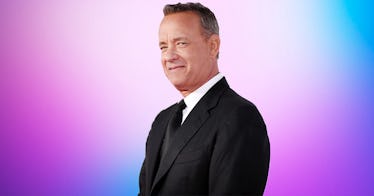 GETTY
Choosing your favorite Tom Hanks movie is an almost impossible task, as America's Dad has had one of the most prolific careers in the history of Hollywood. But Hanks himself proved up to the task, as the two-time Oscar-winner named his three favorite movies he's been in during a recent interview on The Bill Simmons Podcast (sorry, Pixar fans, the Toy Story trilogy did not make the cut).
For his first two picks, Hanks went with a couple of fan favorites, naming Cast Away and A League of Their Own as favorites in his extensive filmography. The real surprise was his third choice, as Hanks told Simmons that Cloud Atlas holds a special place in his heart due to being "part of this big, massive ensemble of fantastic people who were just trying to do the hardest, best work on a deep throw." Here is where you can stream all three movies if you want to have a Hanks-a-thon.
Cast Away
Hanks won a Golden Globe for his performance in the critically-acclaimed 2000 film about a man who is forced to try and survive on an island by himself (unless you're counting his best pal Wilson) for four years following a plane crash. Cast Away is available to stream on Amazon Prime and if you're not a subscriber, you can also watch it for free on Tubi.
A League of Their Own
Hanks said this was one of his favorites partially because he got to play baseball all summer but it also is one of his few against-type performances, as the usually charming everyman got to show off his rougher edges a bit as cynical alcoholic manager Jimmy Dugan. The movie isn't streaming anywhere but you can rent it on Amazon or Apple TV.
Cloud Atlas
This is perhaps the most polarizing movie of Hanks' career, as it divided critics and fans while flopping at the United States box office (though it performed better internationally). However, Hanks has continued to praise Cloud Atlas over the years, even saying in an interview with The Guardian that it is "the only movie I've been in that I've seen more than twice." You can judge it for yourself by renting Cloud Atlas on Amazon or Apple TV.