James Bond Movie 'No Time To Die' Release Date Now April 2021
You're gonna have to wait even longer for Daniel Craig's 007 swan song.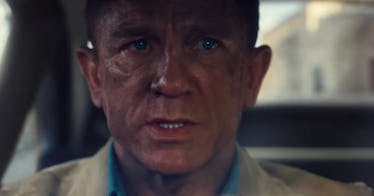 Credit: Sony/EON
When Daniel Craig's No Time To Die was given its title, there's no way the producers could have known how strange it would seem. Once again, the amount of time James Bond has to die has been extended pretty significantly. Although originally slated for the spring of 2020, No Time To Die was pushed back to November 2020, and now, has been delayed again.
As of now, Variety has reported that No Time To Die's new release date will be in the spring of 2021 — April 2, 2021, to be exact. Here's the official statement from team 007.
"MGM, Universal and Bond producers, Michael G Wilson and Barbara Broccoli, today announced the release of 'No Time To Die,' the 25th film in the James Bond series, will be delayed until 2 April in order to be seen by a worldwide theatrical audience. We understand the delay will be disappointing to our fans but we now look forward to sharing 'No Time To Die' next year."
While some pundits guessed that No Time To Die might stick with its theatrical release date, it turns out that EON productions and MGM is 100 percent more concerned with doing the right thing than trying to push this huge — and highly anticipated 007 film — into theaters before audiences are truly ready. Other than Dune, this makes No Time To Die the last big movie blockbuster for the Fall and Winter to officially cancel its release.
And if you're wondering why they just don't put No Time To Die out on video-on-demand, it's pretty clear that everyone involved wants you to see this movie in the theater, and hopefully, not be totally freaked out while you're doing so.
For now, here's where every James Bond movie is streaming right now.
This article was originally published on