'No Time To Die' Release Date: We'll See You Someday, Mr. Bond
When is 007 showing up in theaters? How about streaming? Here's the latest about what to know about the 'No Time To Die' release date.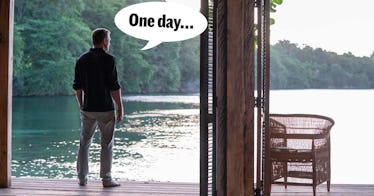 MGM/Universal
At the start of nearly every James Bond movie, we start from the perspective of somebody who literally has their sites set on taking him out. Inevitably, Bond turns and shoots, and the would-be assassin is no more. But right now, fans of James Bond are looking through our little spyglasses, and once we get a glimpse of Bond, he doesn't turn to face us, but instead, runs away, out of view. But when is the release date for No Time To Die? And will it go straight to streaming?
It's not his fault, of course. Literally, every movie on the planet changed its release date because of the COVID-19 pandemic. (Well maybe not Tenent or Croods 2, but whatever.) The point is, while Mulan went straight to Disney+ and Wonder Woman 1984 launched a gutsy new strategy for Warner Bros, 007 has been biding his time, hoping for a regular-old theatrical release…eventually. We've joked before that No Time To Die has plenty of time to die, but of all the hotly-anticipated big movies, this one has seemingly moved the most. Here's the latest on No Time To Die's eventual release date.
When will No Time To Die hit theaters?
No Time To DieOCTOBER 8, 2021.
When will No Time To Die hit streaming?
No Time To DieFauci did suggest
Will No Time To Die skip theaters and go straight to streaming?
No Time To Diemaybedad-pun here.Here's where you can stream every James Bond movie online right now. Like the No Time To Die release date, these movies move around a lot! But, we update this every month.
This article was originally published on