LeVar Burton's Daughter Tells Her Dad She Preferred Star Wars To Star Trek
But Mica and LeVar bonded over Sailor Moon
by Harlan Sharpe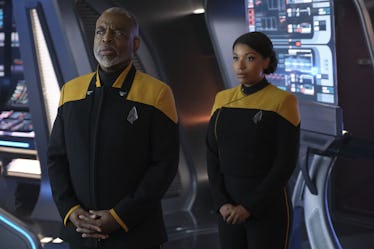 Paramount+
In case you haven't noticed, '90s nostalgia is back in a big way. Hit Paramount+ show Star Trek: Picard has brought back all the Next Generation crew for its final season, including, the one and only LeVar Burton as space engineer extraordinaire; Geordi La Forge. But this time, he's got his daughters with him, one of which is played by his real-life daughter, Mica Burton.
Recently, Fatherly's entertainment editor, Ryan Britt, had a long sit-down chat with Burton. They talked about Burton's legacy, his passion for children's literacy, the importance of Star Trek in his life, and his thoughts on fatherhood. But, while LeVar and Mica and had their picture taken, they also indulged Fatherly in playing a game in which they talked about which '90s shows they watched together, and which ones they didn't.
And during this hilarious conversation, we learned that LeVar skipped Ren and Stimpy entirely, as well as Powerpuff Girls, and was generally mystified by just how intense so many '90s cartoons were.
"We bonded over Sailor Moon," LeVar says after Mica points out that he did not watch Powerpuff Girls with her. "I think that's where your anime nerddom was born," LeVar says proudly.
Both loved Spongebob Squarepants, but there's also the revelation that Mica — gasp! — perhaps did not love LeVar Burton's most famous show ever; Star Trek: The Next Generation!
"I think I heard Star Wars!" Mica says with a laugh. "I watched every movie, when I was a kid I thought I was going to marry R2-D2!"
To this revelation, LeVar replies, "I am learning sooo much."
Obviously, Mica is kidding around a little bit here, and even if she didn't love The Next Generation as a kid, she clearly does now. In the finale of Star Trek: Picard, the '90s crew of Riker, Worf, Dr. Crusher, Data, Counselor Troi, Captain Picard, and of course, Geordi, are all fighting to save the literal next generation which, of course, includes Mica's character, Alandra La Forge.
For more on LeVar Burton's thoughts on this momentous moment, his reflection on the brilliance of Fred Rogers, and his feelings about parenting, check out our in-depth interview right here.
The series finale of Star Trek: Picard — featuring both LeVar and Mica Burton — hits Paramount+ on Thursday, April 20.