This Marvel Star Is Suddenly the Leading Contender For the Next James Bond
He's got all the makings of a good Bond.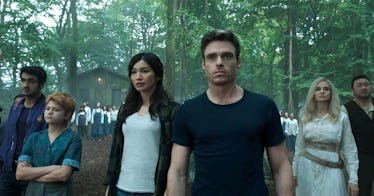 Marvel
There's always a lot of interest in who is going to take on the role of James Bond when one actor is out. He's one of the coolest movie characters of all time and playing the part comes with a lot of prestige. But it also comes with a lot of pressure in choosing the right person.
The time has come again with Daniel Craig stepping down after No Time To Die and a new person needing to fill the role. But who will it be? Apparently, a Marvel star is now the leading contender as the next Bond.
US-Bookies.com, a betting web portal, has been interesting in which actor is more likely to land the role. Using data "based on betting markets offered by UK/European/worldwide operators regulated in jurisdictions where wagering on these props is legal," there's a new person in the lead role as the favorite for James Bond, overtaking Tom Hardy.
Who's the lucky guy? Richard Madden, who was recently seen in Marvel's Eternals playing Ikaris, but loads of us known him from Game of Thrones.
"Richard Madden has seen a sudden spike in interest, with one in eight bets placed in the markets now being in favor of the Game of Thrones actor taking over Daniel Craig's role, suggesting a growing public confidence in Madden becoming the next Bond," says a US-Bookies spokesperson. "With this influx in betting, Madden's odds have shortened enough to become the new favorite over Tom Hardy, who's been hanging around the top of the list for some time."
Richard makes total sense for the role and has some nods back to the original James Bond, Sir Sean Connery. Both actors are Scottish, and have charming, good looks. Richard is pretty young, he's 35 years old, which means if he lands the role, we might get to see him in several movies as James Bond (Sean starred in seven movies, starting at 32 years old).
And while Richard has been in some big profile movies and TV shows, he's not been oversaturated where it would be hard for us to see him as the secret agent. Sean was relatively unknown before becoming Bond – as was Daniel Craig – so we know that's a good formula to go with.
Who else is in the running according to UK-Bookies.com? Rounding out the top five is Tom Hardy, Henry Cavil, Idris Elba, and Regé-Jean Page. Interestingly, there are currently two women on the US-Bookies.com list, including Lashana Lynch and Jodie Comer.
This article was originally published on