This Map Reveals The Most Popular Mario Game In Each State — And Mario Kart Is Losing!
The most popular Mario game in your state might not be what you think it is.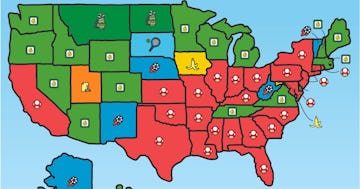 brightspeedplans.com
Whether you're a nostalgic gamer who remembers Mario Bros. as the pixelated plumber who jumps effortlessly over ropes made of fire or you spent hours driving around as Mario in a race car, anyone who spent time playing a Mario game likely has a favorite. Have you ever wondered which Mario game was the most popular where you live or which is the most popular in the United States? With the new film, The Super Mario Bros. Movie dominating, well, everything, interest in the games is higher than ever.
So which game is the most popular in each state? We have an answer for that — in map form. And the most shocking thing is probably the fact that Mario Kart is perhaps not as popular as we thought it was!
BrightspeedPlans.com wanted to learn more about Mario Bros., specifically which games are most popular nationwide. To find this out, they first compiled a list of the most popular Mario game series in Nintendo franchises using ratings from Metacritic, Fandom, and VGChartz, the site explains.
"We then ranked the game titles in each major series by their all-time unit sales worldwide," BrightspeedPlans.com noted. "We also used Google Trends, a website that analyzes the popularity of top search queries by region, to compare online interest over the last 12 months in each major Mario game series. We gathered this data in November 2022."
The most beloved Mario games by state:
Super Mario, with the top spot in 23 states, including Arkansas, Florida, New York, and California
Mario Party, with 17 states, including Michigan, Idaho, and Hawaii
Mario Strikers, with five states, including Alaska, New Mexico, and Nebraska
Mario Kart, with two states, including Iowa.
Mario Golf, with two states, including Montana
Mario Tennis in one state—South Dakota
Paper Mario in one state—Utah
It's been 40 years since the first Mario game made its way onto store shelves in 1983, and Super Mario Bros two years later. Now, there are more than 200 renditions of Mario games, with Super Mario games, specifically, landing the bestselling video game series of all-time titles and earning more than $396.8 million worldwide.
But according to the data BrightspeedPlans.com pulled, seven Mario games stand at the head of the pack in the United States, with one clear winner between them — Super Mario.
And despite the franchise being over four decades old, it's super popular in 2023. "Mario appears in over 100 self-titled Nintendo games," this year, BrightspeedPlans.com shares. Mario "hangs out in Nintendo World at Universal Studios Orlando and stars in the Super Mario Bros. movie premiering next month."
To see the full list of interesting Mario details, visit BrightspeedPlans.com.