Mandalorian Season 3 Trailer, Release Date, And Baby Yoda's Rowdy Force Powers
The new season for everyone's favorite Star Wars show is here sooner than you think.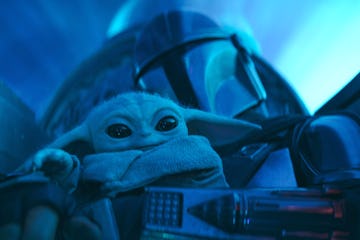 Lucasfilm
Baby Yoda is not playing. In the surprising new trailer for The Mandalorian Season 3, long-awaited questions about the mysteries of Grogu (AKA Baby Yoda) may finally be answered. But, in the meantime, Baby Yoda is using the Force and smacking around monsters like a boss.
On January 16, Disney+ dropped a slick new trailer for Mando Season 3. For Star Wars folks who have felt divided or disappointed by Obi-Wan or Andor, the show that everyone can agree on is finally coming back. While there has been a lot of Star Wars since Mando Season 2 at the end of 2020, Season 3 is really almost upon us. Yes, it's been two and a half years, but this trailer makes it seem like it was all worth the wait.
Mandalorian Season 3 trailer
The new Season 3 trailer for Mandalorian covers the whole 12 parsecs. We've got Mando talking about going back to his home planet of Mandalore (which we've never seen in a live-action Star Wars thing, ever), plus some juicy flashbacks to Jedi in the prequel era (Anakin time!) and some much-needed buddy-time with Carl Weathers as Greef Karga. Mando tells Grogu that being a Mandalorian is all about figuring out how to navigate the galaxy, but he also is telling the Armorer (his faux-mom) that he's going to go back to Mandalore so he can be absolved for taking his helmet off ...or something.
All of this is awesome, but the most awesome thing is clearly the ending of the trailer when we see Baby Yoda use the Force on some gross monster. We know Baby Yoda can use the Force. He used it in Season 1 when he saved Mando. He's Force-choked some folks. He was a disappointing student to Luke Skywalker in The Book of Boba Fett. But, for some reason, seeing Baby Yoda smirk after throwing out a Force-smack on this monster is...just...great. The promise of Mando Season 3 is clear: Baby Yoda is growing up. Let's just hope he doesn't end up talking like the Kyle Mooney versions from SNL.
The Mandalorian Season 3 release date
The new season of Mando is coming to Disney+ sooner than you might think. New episodes start dropping on March 1, 2023. This will keep new Disney+ shows on the Wednesday schedule established by Loki.
Seasons 1 and 2 of The Mandalorian are streaming on Disney+ now. But if you really want to catch up before Season 3, you better watch Episodes 5, 6, and 7 of The Book of Boba Fett. Otherwise, you'll have no idea why Mando has that sweet ride or why Baby Yoda is no longer hanging with his boring babysitter, Luke Skywalker.
Here's Fatherly's guide for watching all the Star Wars TV shows with your kids.