Kenan Thompson Shares His Secret For Picking Great Family Video Games
The SNL star talks about filming a Nintendo commercial with his daughters, plus dishes on his favorite games.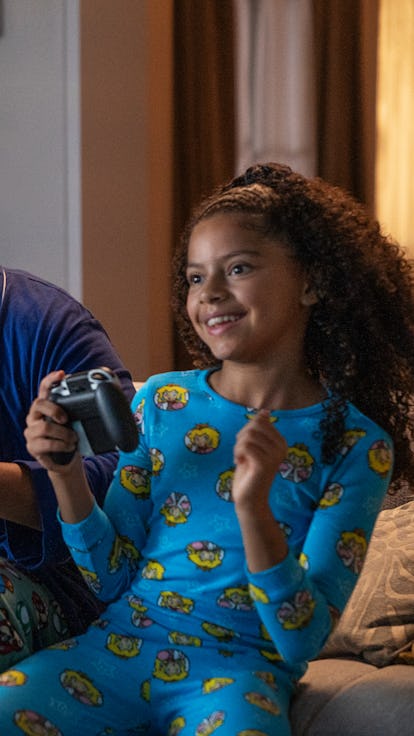 Nintendo
Kenan Thompson is a busy man. Whether he's performing on Saturday Night Live — where he maintains his record for longest tenure on the live comedy show — or reviving the Good Burger franchise with Kel Mitchell, OR doing voices for the latest animated Trolls flick, Kenan is a cool dad, in high demand. But, even Kenan has downtime, and like many of us, that means he loves to play video games. And like the good dad that he is, family time and game time don't have to be mutually exclusive. Instead, it's just a chance to play alongside his young daughters, Georgia and Gianna.
Recently, Nintendo recruited Kenan and his kids for a new commercial showcasing the latest games available on Switch. To be clear, they'd likely be playing these games anyway, but now with this new commercial, Thompson is sharing his love of family gaming with the rest of the world. Ahead of this new Nintendo push, Fatherly chatted with Kenan Thompson about bringing his kids closer to his line of work, and what his family is playing together this holiday season.
What's it like filming a commercial with your kids? Have you ever done anything together on camera before?
No, this was our first time. I've gone to America's Got Talent with my oldest and she got to sit in when I was guest-judging, but I only did that because that was her favorite show. We've never actually worked a full day of real shooting, doing takes, dialogue, and stuff like that. It was an amazing experience. I think it came out really, really good.
How were your kids on set? Were they able to handle the direction and go with the flow, or were they kind of like the on-set divas?
Yeah, I see some diva in that little one. No, I'm just kidding! They were both angels and took direction well. The director, Paul Briganti, is a friend of mine. He used to work at SNL. He made it easy and, you know, we were already fans of the Nintendo Switch so it was easy on us. We just got to play games all day. It was great. It wasn't too hard because, like I said, we're playing games that we're already fans of.
As a parent, how do you decide which video games are OK for your kids to play?
It's like checking the Halloween candy. You have to make sure you experience something before they do to make sure there's nothing in there that would overly shock them or is inappropriate.
Nintendo makes that easy. A lot of their games are very family-friendly. You don't have to think about it. Anything in the Super Mario bubble is more than likely OK. You don't worry about anything being necessarily taboo like that because you trust the brand.
Who's the better gamer at this age — young Kenan or your kids?
I think it's my oldest, Georgia. She's just very adept at all the tech. She takes to it, and she's grown up with it. For people my age, it was a little slower. I remember before the first Nintendo came out, it was a slow existence, you know what I mean? When Nintendo came out, it sped us forward to what we thought was the future. We were like, "Oh my God, look what the possibilities are with a game system!"
What video games are playing with your family right now?
I personally love Mario Kart. This new one, Mario Kart 8 Deluxe, is great. When we were on set filming, we were playing a lot of Super Mario Party. It's a great game for everybody to play together.
Legend of Zelda: Tears of the Kingdom is highly impressive, especially with how far it's come from the original Zelda. Super Mario Bros. Wonder is a lot of fun, and then I do some sports games on my own time.
What do you play when you have time by yourself?
I like football or basketball games. Whatever's in that category, whether it's the traditional ones with actual players or a more animated-style street version, those are all fun.
In my mind, I always imagined Kenan Thompson was a big fighting game guy.
Yeah, I remember Mike Tyson's Punch-Out! It was great when it came out, all the way back in the day. I was also a big fan of Contra and stuff like that. Those were my favorites on the Nintendo. The fact that you can go back and buy old games and play them on the Switch, it's great.
Are there any games from your youth you can't wait to introduce your kids to?
If I could impress them by playing Double Dribble, and show them how special it was to me, that would be great. Between that and Tecmo Bowl, that would be like a dream come true.
What is the proudest dad moment you've had with your girls when it comes to gaming?
This whole experience with Nintendo has been a very, very proud moment, as far as gaming with my girls is concerned. It was really special, working with my daughters like this and sharing my love of Nintendo while embracing theirs. I'm very grateful for this opportunity to work with my babies because I think the commercial came out pretty adorable, and I think the girls are going to love it and hopefully be very, very proud of themselves.