Kenan Thompson Says Kids Make Him Funnier — And When He'll Leave SNL
The funniest dad in show business talks about the future of his career and why clean humor is so important.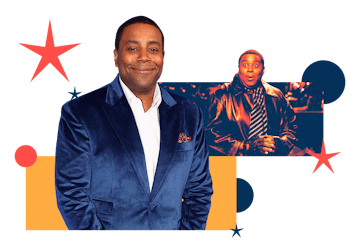 Ariela Basson/Fatherly; Getty Images
Kenan Thompson is looking for a new job. Well, not really. In the new YouTube-first series Lil Interns, the nicest dad in comedy tries to work a real day job with a bunch of kindergartens as competition. Lil Interns is a faux-reality show side hustle for Kenan, a six-part series about him interning with a bunch of kids at an Old Navy (which of course co-produced the series). Thompson tells Fatherly he prefers doing these kinds of creative challenges, as opposed to "just doing a straight-out commercial."
As the father of two daughters — Georgia (9) and Gianna (5) — Thompson is very familiar with kids putting you in your place. "They say funny things, but they're dead serious," he explains. "They don't know that it's funny. Which is why it's great." In conjunction with the debut of Lil Interns, Thompson spoke to Fatherly on how kids make dads smarter and phone, and when — and if — he'll ever leave SNL.
While plenty of Kenan Thompson's comedy in SNL and his sitcom Kenan, is for adults, he does think there is something to be said for crafting comedy that is clean by nature.
"It's important to me," Thompson says. "I can't really speak on why it's important for society without sounding like a martyr or a politician or whatever. I don't want to say 'We need clean comedy for the sake of the future of the world.' But, I'm a very all-inclusive kind of a person, so I want everybody to be able to watch what I'm doing, or at least a high majority of people. I don't like to leave people out just because this is an adult topic or whatever. I try to stick to topics that everybody can dive into and mine comedy out of."
While some may have forgotten, Kenan Thompson began his career very young. He was a child reporter for CNN's Real News For Kids, and was, famously, one-half of Kenan & Kel on Nickelodeon from 1996 to 2000, which began when Thompson was only 17. Maybe as a former child star, kid-appropriate humor is just in his DNA?
"Being a dad has definitely given me that perspective that I always wanted from a bunch of comedians that were dads that were talking about their kids and stuff," Thompson says. He cites Jim Breuer, a former '90s SNL cast member as an inspiration. "I really wanted to relate to that kind of thing. The Jim Breuers of the world. All of his comedy is about. being a family man. It's just great stuff. And being a dad helps with that material. With that kind of thing, I can listen to it with my daughter, because she's laughing at funny sound effects and I'm laughing at jokes."
Since 2003, Thompson has had a real job, that of a regular cast member on Saturday Night Live. Yes, that's right, this year marks twenty years since Thomspon first joined the cast. How long will he stay?
"I don't know. I guess I've rewritten the rules," Thompson says with a laugh. "But I don't really know what the rules are. I think you stay as long as you're welcome and you don't really feel like you're not growing in any capacity. Once I feel stalemated, it'll probably be a very clear indication that I need something else or something like that. But that's tough when you're doing a sketch comedy show and it's life because it's so fleeting and it changes in a week. Almost every four or five minutes it's something different. There's always something to explore. I don't see myself necessarily reaching a point of exhaustion. It'll just be...an inevitability of time. It'll just be my time to move on, I guess. Hopefully, they won't kick me out."
You can watch Lil Interns right here. SNL streams on Peacock.
This article was originally published on