The Last Beatles Song Is Really The Last John Lennon Song
Let's talk about the truth of "Now and Then."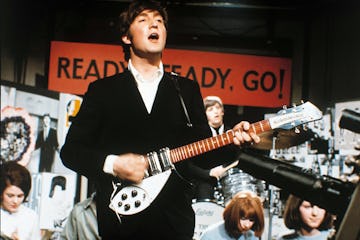 United Archives/Hulton Archive/Getty Images
The fact that The Beatles are the most important rock band in history is barely up for debate. But, as the 21st century marches on, the real question is, will they continue to be as massively popular to each subsequent generation going into the future? As he flawlessly argued in his book Dreaming the Beatles, rock critic Rob Sheffield has made it clear that this band's social relevance has little to do with the 1960s anymore. Each generation seems to have its own specific perception of The Beatles, to the point where calling it "nostalgia" barely makes sense. The way kids got into The Beatles in the 1990s is nothing like the way kids got into The Beatles in the 2010s. So now, just a few years after the mega-documentary Get Back, we're clearly into the decade of the 2020s Beatles. And, with the release of the supposed "last" Beatles song, "Now and Then," we're either at the end of an era or in the middle of a new one.
But is "Now and Then" really the last Beatles song? You might think the emphasis here should be on last, but perhaps, we should put the emphasis on Beatles. Is "Now and Then" even a Beatles song at all?
On November 2, 2023, The Beatles — which is basically a legal arrangement masquerading as a band — released the single "Now and Then." The day before, on November 1, a brisk 13-minute documentary dropped on YouTube, Disney+, and iTunes, all about the making of the track, complete with commentary from the two surviving Beatles, Paul McCartney, and Ringo Starr, as well as John Lennon's son, Sean Ono Lennon. This documentary attempts to make the case, that yes, this lost track really is a Beatles song for...reasons. But, the more you listen to the song — which is pretty good — the more it feels like this is really just the last John Lennon song.
How "Now and Then" was made
You can watch the micro-documentary on "Now and Then" and make up your own mind, but for anyone who knows anything about Beatles projects post-break-up, there's certainly a degree of revisionism going on here. The Beatles broke up in 1970, and then legally broke up in 1974. After that, all four had solo careers, which, any way you slice it, were pretty successful. In 1980, John Lennon was tragically slain, and after that, there was never any talk of an actual Beatles reunion.
Then in 1994, Paul, George, and Ringo all worked on creating "new" Beatles tracks using "lost" John Lennon recordings. These songs became "Free as a Bird," and "Real Love," both released in 1995, as part of the massive multi-media Beatles Anthology project. (This consisted of three double albums, a huge book, and a massively-long made-for-TV documentary series.)
It was back in 1995 when the seed of "Now and Then" began. According to McCartney in the new doc, the surviving Beatles wanted to do a version of "Now and Then" back then. "I think we ran out of steam a bit. And time...we'll leave this one," McCartney says.
Essentially, the doc asserts the idea that had 2023 audio technology been available in 1995, the surviving Beatles would have assembled some version of "Now and Then" at that time. Essentially, the same machine learning that was used to isolate tracks from Peter Jackson's Get Back documentary was used to separate John Lennon's voice from a piano track on a demo tape. "We could lift John's voice without lifting the piano," McCartney explains. "Which had always been one of the problems."
So, according to the documentary, the only reason The Beatles didn't "finish" doing "Now and Then," back in 1995, is because they couldn't separate John Lennon's voice from a piano on an old demo tape. But, does that fact make this a true Beatles song?
"Real Love," and the timing of the John Lennon "Now and Then" demo tape
The John Lennon vocal track on "Now and Then" is derived from home recordings that John Lennon made when his younger son, Sean, was a little kid. Sean Ono Lenno was born in 1975 and John Lennon was shot in 1980. "There's an impression that my dad stopped doing music for a while to raise me," Sean says in the mini-documentary. "Which I think is partially true, in terms of him not touring and not fulfilling any major record label obligations. But he was always playing music around the house; he was always making demos. I do remember him recording into these tape cassette recorders."
The vocal on "Now and Then" comes from one of these demos, which means it's very much from a period when John Lennon was not in the Beatles. On the song "God" released in 1970, Lennon sings "Don't believe in Beatles." And in nearly every subsequent interview until the end, he always insisted that his time with The Beatles was over. Unlike the unreleased track "Carnival of Light"—which was recorded by The Beatles when they were all together still in 1967 — the chronology of "Now and Then" doesn't seem to line up with it being a Beatles song at all, but rather a lost solo John Lennon song.
This has happened before. In addition to the 1995 Beatles song "Free as a Bird" (which also used lots of Lennon vocals, but sported new vocals at the time from McCartney), the surviving Beatles also released "Real Love" as a lost Beatles song, too. But, even in 1995, hardcore Beatle-heads were aware that John Lennon had already recorded a version of that song called "Real Life" in 1977 which was later released posthumously in 1988. So everyone pretended like another lost Lennon track, "Real Love," was a lost Beatles song, when it totally wasn't.
Is "Now and Then" really a Beatles song?
If we throw out time and space — John didn't record this track when he was with the Beatles, George is currently dead, and it seems Paul and Ringo weren't even in the same room to do the new bits — then how do we justify "Now and Then" as a Beatles song, other than the fact that we're just being told it is? Well, seemingly, all four Beatles play on the song. Ringo recorded new drums. Paul plays the bass, and wrote a string arrangement for it, with the assistance of Giles Martin, son of Beatles producer George Martin, who has previously worked on remixes of various Beatles tracks, including the excellent 2006 album Love, created for Cirque du Soleil. Finally, Paul explains that George Harrison kind of appears on this new track too because "We'd kept George's guitar parts from '95...and I thought, what I'd like to do, is a slide guitar solo, in George's style."
Translation: there are some guitar solos that George did during the "Free as Bird" and "Real Love" stuff from 1995, and Paul had that fed into the machine learning to come up with a George-esque guitar sound. So, two living Beatles played some new material on "Now and Then"; most notably a 2023 Paul dueting with a 1970s John, while "George" plays a guitar solo that really does sound in the style of George Harrison, rather than actual George Harrison. (There are also conflicting reports here. Some sources say that Paul just played slide guitar in Harrison's style, meaning George isn't on this song at all.)
This may not be as ghoulish as it sounds. Sean Lennon says: "My dad would have loved that because he was never shy to experiment with recording technology." This is more or less true. Overdubs and drum loops were practically invented by The Beatles and George Martin in the 1960s. The technogroup The Chemical Brothers owes its entire existence to "Tomorrow Never Knows." Prior to "Nowhere Man," few pop groups created double-and-triple harmonies layering their own voices. So yes, The Beatles were innovators.
"We're actually messing around with state-of-the-art technology, which is something the Beatles would have been very interested in," Paul McCartney says in the documentary. But, was any of that evident on John Lennon's final 1980 album Double Fantasy? While it's true that Lennon worked with Phil Spector and his infamous "wall of sound" production values on various projects, including Let it Be, by the latter half of his solo career, Lennon's sound was fairly minimalist.
Plus, way back in 2003, Paul McCartney shepherded the re-release of Let it Be...Naked, which removed the production effects from Phil Spector (a cutting-edge sound design in the '60s and '70) and replaced it with essentially, nothing. Paul's vision for Let it Be in 2003 was to present the songs more simply, but that doesn't necessarily mean it's the versions of the songs that George or John would have preferred. And, by and large, although those versions sound crisp, they haven't really replaced the 1970 versions of Let it Be at all.
This is another way of saying that "Now and Then" is a new Beatles song because Paul says it is, and John Lennon's son Sean and widow Yoko Ono agree. Ringo was also fine with it too and said "great."
Is "Now and Then" any good?
As a solo John Lennon song, "Now and Then" is pretty good. Like a seven? It feels up there with classics like "Oh My Love," and "How?" And, you'll probably get pretty emotional when the new McCartney vocals kick in alongside the resurrected voice of John Lennon. It's catchy and sweet in that way great Beatles songs can be, but it really sounds more like a solo Lennon song than a Beatles song.
In an unfair ranking of post-Lennon timey-wimey Beatles songs, "Now and Then" is probably slightly better than "Real Love," if only because the public has genuinely never heard this melody before. If you were a little kid, and you had no perception of which Beatle was alive and which wasn't, this would probably scan as a slightly moody Beatles song in which some parts just felt louder than others. And because the song is kinda about time travel, maybe that's okay. If "Now and Then" was a young person's first Beatles song, it certainly wouldn't be their last.
Now and Then is on iTunes and Spotify.