I Watched Indiana Jones and the Temple of Doom 30 Times In 1984 — Here's What I Learned
How to make an unofficial Indiana Jones trivia book without really trying.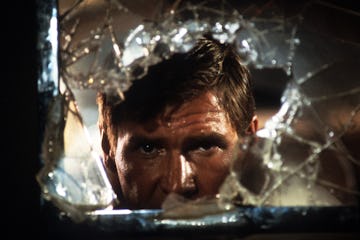 Paramount Pictures/Moviepix/Getty Images
Back in the late spring of 1984, I didn't know that the Merrick Mall Cinema would become my own personal Temple of Doom. But it did. And here's how. Someone suggested that during my summer break from college, I work as an usher at the movie theater in my hometown, soon to be famous for our holy trinity of Amy Fisher, Debbie Gibson, and Lindsay Lohan. My good friend, Steve, and drove over to meet the theater's owner and manager. They needed ushers who could take tickets, watch over the audience, clean up, and double as servers at the popcorn/soda/candy stand during the run of Indiana Jones and the Temple of Doom, starting May 23, 1984.
The owner and manager saw that we were reasonably smart, eager-to-work, seemingly trustworthy locals, and he hired us. Our manager then trained us well. We popped the popcorn and learned the proper ice-to-soda ratio. We knew where to find more Milk Duds and Goobers and licorice whenever stock ran low. We know when we could and when we couldn't sneak a couple of friends in for free. Temple of Doom started huge, earning nearly $46 million on its opening weekend. For two or three weeks, moviegoers packed Merrick Mall Cinema for multiple showings on weekends and two showings per night on weekdays.
After that initial rush, the crowds thinned out, which translated to little work and lots of free time. And it led us to watch Temple of Doom repeatedly, sometimes in chunks and sometimes the whole thing. We saw it at least 30 times, maybe 40. At some point, either Steve or I — honestly, I can remember whom — suggested we try to write a trivia book and pitch it to Lucasfilm. So, we did.
Watching the movie over and over again, we paid super-close attention to the tiniest of details. As a working journalist these days, I could find loads of trivia just by Googling for 10 minutes. But back in 1984, Steve and I were our own Google Search. I sat in the theater with a pad and pen and scribbled notes. It was a blast. I'd never scrutinized a movie that closely before, seeking the minutest of minutiae, along with some easy layups. Here are some things you may not know about Temple of Doom, but which I certainly jotted down while watching the movie over, and over again in the summer of 1984.
What did Willie's grandfather do what for a living? He was a magician.
Which Blues Brother made a cameo in the film? That'd be Dan Aykroyd.
What letters were emblazoned on Short Round's hat? That's easy: NY, as in New York. Shorty was a fan of the 1922 NY Giants. Go figure.
How many Sankara stones were said to exist? Mola Ram reveals that were five Sankara stones "in the beginning."
Who appeared in the movie: Steven Spielberg or George Lucas? Trick question! Both have cameos.
What's the name of the club Indy escapes at the beginning? Club Obi-Wan! (An easy one, maybe, but I vividly remember opening-weekend audiences cheering at the sight of those words!)
Which tunnel did the Maharaja suggest Shorty use to escape, the left or the right one? The left one, not that Indy listened! (But Steve and I did.)
What's the first word uttered in English in the movie? That'd be "Anything," which Willie sings as part of the opening musical number, "Anything Goes."
Steve and even watched the end credits many, many times, well before the era in which post-credits scenes became all the rage. We were analog geeks. We got down to the nitty-gritty.
And, speaking of being an analog geek, that summer, I searched for the address of Lucasfilm at my local library, with some help from the wonderful lady at the reference desk. (Remember the reference desk?!)
I then typed up a note expressing our love for the film and our wish to work with Lucasfilm to publish an official Temple of Doom Trivia Book. We included several pages of questions and answers and mailed it off to Lucasfilm. A month later, a package arrived at my house. In it were the pages of trivia we'd sent, some Temple of Doom swag, and a very polite rejection letter that thanked us for our effort, but noted that something similar might be in the works, plus, for legal reasons, they couldn't accept unsolicited material from unrepresented writers.
Boo to that, but we'd enjoyed ourselves ate buckets of popcorn, earned a few bucks, and took a really big swing, even if we knew from the get-go the notion was probably… doomed.
As an entertainment journalist, much later, I ended up interviewing Spielberg, Lucas, and Marshall, but also other Indiana Jones franchise cast and crew, including Harrison Ford, John Williams, Karen Allen, John Rhys Davies, Alfred Molina, Lawrence Kasdan, John Hurt, Dennis Muren, Sean Patrick Flanery, Kathleen Kennedy, and Ben Burtt. Coming full circle, I interviewed Marshall and Burtt for Indiana Jones: The Official Magazine, definitely the next best thing to The Official Indiana Jones and the Temple of Doom Trivia Book.
So, guess where I'll be on June 30, 2023? The return of Indiana Jones is for me, a return to my youth. For many of us, he's a very old friend, and it will be hard to truly say goodbye.
Indiana Jones and the Dial of Destiny hits theaters on Friday, June 30, 2023.
This article was originally published on