WTF — The Indiana Jones Temple Could Replace The Dinosaur Ride At Disney World?!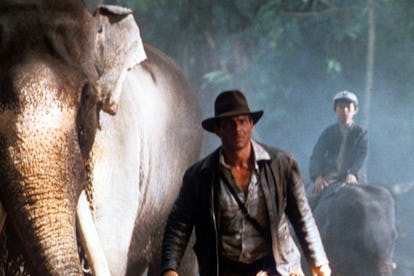 Paramount Pictures/Moviepix/Getty Images
Disney Parks has been teasing a lot of changes at Disneyland, and now they're teasing major changes at Disney World, too. Rumors are circulating that there may be a total redesign coming to one of the experiences at Disney World that would make Indiana Jones fans super happy — and have the opposite impact on people who love to visit the Dinosaur ride at Disney World. Here's what we know.
According to WDW Magic, DinoLand U.S.A. at Disney's Animal Kingdom is being considered as the new home for an Indiana Jones-themed attraction, taking over the existing Dinosaur ride.
Dinosaur is one of the many attractions at Animal Kingdom where guests sit in a car that moves along a track and then "travel back in time on a perilous prehistoric race to rescue a dinosaur—before the meteor strikes."
The swap from Dinosaur to an Indiana Jones-themed ride is being considered since the Dinosaur ride "already uses the same ride and vehicle" and takes the same pathway as the Indiana Jones Adventure attraction at Disneyland, reports say. These plans were unveiled at the Destination D23 2023 event, which took place in early September.
So far, there's been no official announcement from Disney that Dinoland is closing, that they're changing Dinosaur, or that Indiana Jones at Disney World is a done deal. But they're certainly entertaining the idea.
At Destination D23 2023, it was announced that Walt Disney Imagineering is planning to reimagine more of Dinoland U.S.A., turning the space into a new land inspired by a region sometimes referred to as "tropical Americas."
But that's not all: rumors suggest Dino-Rama could be replaced by an Encanto-themed experience.
"Imagine a land filled with authentic experiences from this part of the world. With all of the placemaking and storytelling, you'd expect," Imagineering Boss Bruce Vaughn said at Destination D23, per WDW Magic. "Look, it's a beautiful region to explore and has been the inspiration for so many magical stories over the years. We're looking forward to bringing all of that to life. "
Vaughn continued, "Imagineering has been talking about stories from this part of the world; Encanto with Indiana Jones just rose to the top. They give us so much to play with. We have a long way to go now and a lot more to discover. But our team here in Florida is all over it."
These new rumors of changes come after the company shared plans to invest $60 billion in park improvements over the next decade and after ticket prices were increased.