17 Funny Songs For Kids That Aren't 'Baby Shark'
When it comes to silly songs for kids, there are plenty of options out there.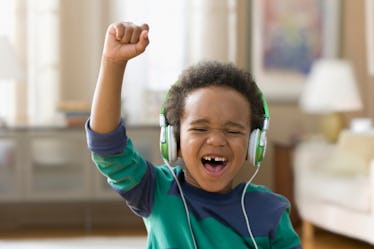 Just admit it: every time you hear Baby Shark come on the kid-friendly playlist you curated as you drive your kid home from daycare, you tense up, start to sweat, and wonder when, if ever, the madness will stop. Kids music — twee, high-pitched, grindingly melodic and almost frustratingly simple — is a necessary evil we all face as we move into parenthood. But it doesn't have to be. There are better funny songs for kids.
In fact, there are many funny songs for kids that aren't Crazy Frog, Gangnam Style, or that insane Quiznos commercial featuring singing rats that aired in the post 9-11 fever dream of American advertising. Consider classics from Randy Newman, the Decemberists, Woody Guthrie, and more. With wacko lyrics and upbeat tunes, these funny songs for kids are ones you might listen to on your own sometimes, too.
In this ditty, Randy Newman, perhaps one of the funniest songwriters of the 20th century, croons, "Short people got no reason/short people got no reason/short people got no reason/to live… They got little hands/And little eyes/And they walk around/Tellin' great big lies." The song is brutal for shorties, and it's silly, funny, and completely absurd. Add that with Randy Newman's dulcet tones, and you have one of the best funny songs for kids that also sounds kind of nice for once.
2. "Joy to the World" – Three Dog Night
While "Joy to The World" does have one somewhat inappropriate line for kids in it ("I'd throw away the cars and the bars and the war/make sweet love to you,") the rest of the song is about boys, girls, fishes, the deep blue sea, and a bullfrog named Jeremiah. It's also just a lot of fun to sing, to dance to, and to shout out.
"The Elements" is exactly what it sounds like: a song that lists all of the elements on the periodic table as of the time of the song's writing, and nothing else. That's it! For that reason, it's a lot of fun to sing, because there's nothing more funny than trying to pronounce "gadolinium," "samarium," "molybdenum," and "mendelevium," especially with children, who are notoriously uninformed re: the Periodic Table of Elements and will think of the important substances as silly indeed.
"Monster Mash" is seasonal, yes, but it's still great no matter the season. It's spooky, goofy, and altogether fun. The killer chorus is almost no match for the pun-filled verses about the ghouliest of spectres: "Out of from his coffin, Drac's voice did ring/Seems he was troubled by just one thing/He opened the lid and shook his fist/And said, 'Whatever happened to my Translyvania twist?'"
5. "King Tut" – Steve Martin
"King Tut, how'd you get so funky" might be burned on the brains of every Gen-Xer after Steve Martin strutted out on SNL in 1978 in a questionable "Egyptian" costume and parodied a popular King Tut exhibit. But there's more than enough time to introduce it to your children. It's funny, goofy, and a weird novelty song that somehow sold over a million copies.
The song is simple enough. And it's true: "Everything, everything, everything, everything, everything," Colin Meloy drones on about a million times before he admits it: "Is awful!" That's about it! The song is also shockingly upbeat, making the act of screaming that everything is truly awful kind of fun. It's like the meme of the LEGO movie song, in which the meme auteur switched "Everything is awesome!" to "Everything is awful! Everything is bad as it ever could be!" Except this version is fun, not kind of horrifying.
7. "I'm Not Crying" – Flight of the Conchords
Although maybe a bad message for kids (crying is totally good and fine) this song is, of course, like all things FoTC produces, quite funny. "I'm not crying, and If I am crying/It's not because of you/It's because I'm thinking of a friend of mine who you don't know that's dying/that's right, dying," the duo croons, or rather, whines, about all of the reasons they are crying that is not their hurt feelings. It also ends in sobs. It's good, it's laugh out loud funny, and it's even more fun to act along to.
The Pink Panther Theme is not, really, funny on it's head — the lyrics are benign and about summer wine. But the tune itself is so iconic that one can't even read the name of the song without singing the tune in their head. Said one Fatherly staffer, "You haven't lived until you see a kid creep along to this song." It's absolutely true. Put that song on the speakers on a Saturday morning and creep around the kitchen as you make pancakes. Have fun with it. It's a classic for a reason: the song reeks of sneaking around, snooping, and generally being up to no good.
Is there a song that's a bigger (and better) ear worm than Low Rider by War? The song is practically made for a goofy dance or a cool cruise around the neighborhood on the way to soccer practice. It's also one of the more simplistic lyrical songs on the list. Just about every line in the song features the phrase "low rider." The tune is also simple enough that a kid has no trouble humming along to it if they're not exactly fluent English speakers yet.
10. "Lollipop" – The Chordettes
An oldie but a goodie, Lollipop by the Chordettes is one of the most fun, funny, and circular songs about candy ever made. The song says iterations of the word "lollipop" about a million times, but the progression, the loop, and the simple sound of a man flicking his finger against his cheek makes it one of the most poppy pop songs on the planet. It's also a classic and, for many parents, reminds them of their own childhood, given that the song was written in the 1950's. For those who are concerned about the explicitly romantic relationship, the courting language is pretty easy to switch out when singing along.
Kacey Musgraves' rendition of "I Want A Hippopotamus for Christmas" eliminates the ridiculously whiny vocal tone of the original singer of the song, Gayla Peevey (a classic, still) and it might reign as the most kid-friendly Christmas song on the planet. The lyrics are silly, the tone is simple, and with Kacey on the track, you know it's lit. A hippo for Christmas!? Where would it even fit in the house?
Oh, who doesn't love Woody Guthrie? Little Sugar is a sweet and quick song that uses the phrases 'little sack of taters' and 'my butterfly fritter' so it's surely a sweet song to sing with the kids. The song is also, somehow, impossibly upbeat despite being acoustic and without accompanying drums. It's fun, sweet, short, hard to keep up with, fun to dance to, and all around a riot.
"Purple People Eater" is one of the more fully silly songs on the list, and for good reason: the song about a one long horned, one big eyed purple people eater who looks strange and wants to make rock 'n roll music is clearly thematically appropriate for children.
14. "I Want Candy" – Bow Wow Wow (Or Aaron Carter)
Although partial to the gender-switched, Aaron Carter version of "I Want Candy," Bow Wow Wow's is the original and therefore must be mentioned. While the song is clearly about a person Bow Wow Wow (or Aaron Carter!) wants to date, for kids, it's also just about candy. Kids like candy.
"The Mission Impossible Theme" is a complete classic in the way Low Rider or Pink Panther are. They song is easy to hum, the words don't matter, it's an absolute creepy bop, and the best spy-games can be back-lit to this spooky tune.
"1234" is arguably Feist's biggest hit, It also massacred the airwaves from 2007-2009, and for good reason: it's unreasonably catchy and light-hearted. The music video holds up, and Sesame Street even covered the song at one point. (Just don't listen to the Sesame Street version. It's for children. Your child's refined taste is like a fine wine.)
17. "Move Your Feet" – Junior Senior
Is "Move Your Feet" by Junior Senior the best song ever written? Yes. There is nothing to the lyrics except, well, moving your feet, and the song itself definitely prioritizes moving those damn feet.
This article was originally published on