Fast X Shocking Post-Credits Scene Seemingly Ends One Bitter Dad Feud
Looks like these two dads are working through their beef.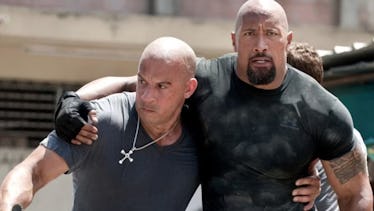 Universal Pictures
Well, here's a plot twist we didn't really see coming. If you're a fan of the Fast X franchise, you'll probably know all about the drama between two stars of the movie — Vin Diesel and Dwayne The Rock Johnson.
The two had a public falling out, and recently, Johnson had slapped down the idea that he would ever return to the franchise. Diesel tried to persuade him to agree to return in a very public way. After Diesel's public plea, Johnson called him out, saying what he was trying to do was "manipulation." Johnson put his foot down and said there was "no chance" he would ever return.
Well … that has all seemingly changed. [Spoilers ahead!]
Is the Rock in Fast X?
The short answer is YES! The Rock is in Fast X despite being very adamant he would never return to the movie franchise. He doesn't have a huge role in the movie. Instead, he makes a surprise appearance midway through the end credits, once again playing Agent Luke Hobbs. This, may or may not be teasing his return in the next installment of the movie franchise. In the scene, Hobbs is confronted by the new Fast baddie, Dante Reyes (Jason Momoa), which seems to set up the idea that Hobb is back in the Fast franchise for...the last ride.
Johnson first joined the Fast franchise in 2011, playing Luke Hobbs in Fast Five. He reprised his role several times, returning for the 6th, 7th, and 8th movies, including a spin-off movie, Fast & Furious Presents: Hobbs & Shaw, based on his character in 2019.
Johnson did not appear in F9 due to the beef between himself and Diesel.
Who Is in Fast XI?
At first, Fast X was said to be the final movie in the franchise, but that's no longer the case. According to Variety, Fast X is the first of a two-part ending, but it might be spread over three movies instead.
But who will be in Fast XI (or Fast X Part II)? Nothing has been confirmed or made official yet, but based on what happened in Fast X and a hint from Diesel, it sounds like we can expect to see everyone.
"Look how many characters and great talent there is in the movie," Diesel shared while hinting at who to expect in the next installment, per Variety. "There was no way I can pull that off unless I had everyone on for five seconds. These characters are appealing, and we need to see more of them."
We can expect to see Diesel's character, Dominic Toretto; of course, Michelle Rodriguez and Charlize Theron are said to be returning as Letty and Cipher. Gal Gadot, who also had a small hint cameo in Fast X, is likely returning from the dead. We can likely expect to see Jason Statham return as Deckard Shaw and Jordana Brewster return as Mia.
There are still a few other characters who will likely appear, but how is not as clear, including Sung Kang's Han, Ludacris's Tej, and Tyrese Gibson as Roman. Also, with Mia Walker, the late Paul Walker's daughter, making a cameo in Fast X, there's potential she'll play a larger role in the next movie to honor Walker's character, Brian O'Conner.
Fast X is out now in theaters.