Wow. The Rock Shuts Down Vin Diesel Real Hard
Looks like these two aren't making up anytime soon.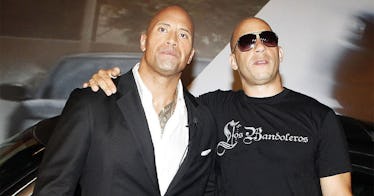 Broadimage/Shutterstock
Dwayne The Rock Johnson has addressed the public social media invite Vin Diesel shared in November inviting The Rock to re-join the Fast & Furious franchise for its final movie. The Rock's response isn't surprising, but it likely didn't go the way Vin had hoped.
Back in November, Vin shared a public post on Instagram extending an invite to The Rock to reprise his role as secret agent Lucas Hobbs for the upcoming movie – which will be the tenth installment of the Fast franchise.
While Vin's message a few months ago read to fans like he was extending an olive branch to his former co-star, The Rock saw the whole thing as "manipulative." And in a recent interview with CNN, The Rock pretty clearly shut down any idea that he would return to play Hobbs again – while criticizing Vin's decision to take this conversation public.
"I told [Vin] directly that I would not be returning to the franchise," The Rock told the publication. "I was firm yet cordial with my words and said that I would always be supportive of the cast and always root for the franchise to be successful, but that there was no chance I would return."
The Rock didn't mince words and flat-out called Vin's social media post manipulative. "Vin's recent public post was an example of his manipulation," he said. "I didn't like that he brought up his children in the post, as well as Paul Walker's death. Leave them out of it. We had spoken months ago about this and came to a clear understanding."
The Rock continued, expressing his support of the Fast & Furious franchise in general. "My goal all along was to end my amazing journey with this incredible franchise with gratitude and grace," he said. "It's unfortunate that this public dialogue has muddied the waters. Regardless, I'm confident in the Fast universe and its ability to consistently deliver for the audience… I truly wish my former co-stars and crew members the best of luck and success in the next chapter."
So, there we have it. The Rock is making it clear that his intentions are not to return to the franchise. However, we have a feeling this won't be the last time we hear about the feud between Vin and The Rock.