27 Years Later, Keanu Reeves' Band Is Actually Releasing A New Album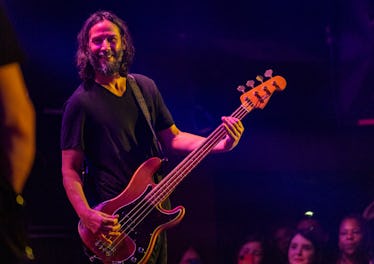 Christopher Polk/Variety/Getty Images
Keanu Reeves is good at making people happy, and he's done it again after announcing a new project he's been working on. It's 27 years in the making, and if you've been a fan of Reeves for a long time, you'll want to mark your calendars for October 6 because Dogstar is coming back!
Dogstar — a rock band composed of Keanu Reeves as the bassist, Bret Domrose as the vocalist, and drummer Rob Mailhouse — announced that after 27 years, they're releasing a new album.
"WE ARE BACK!!!" a post on the group's Instagram account read. "Thank you to everyone who came out to the Roxy last night." For those who forgot, Dogstar was a '90s band, that basically made it possible for Weezer to exist. (Weezer opened for Dogstar way before anybody involved was famous.)
"We are so excited to announce our new album Somewhere Between the Power Lines and Palm Trees out on October 6th on our label Dillon Street Records," the announcement continued.
"We are so excited to reintroduce Dogstar with our new single, 'Everything Turns Around,'" the band said in a press release, per Entertainment Tonight. "It feels like a fun summer song to us. It has an uplifting message and a positive vibe that hopefully makes your day a little bit lighter. It's one of our favorite songs to play live, and can't wait to share it on our upcoming tour."
Dogstar shared their latest single, "Everything Turns Around," and a music video today to help build up the hype and show people what they can expect from the band, even 27 years later. The song is one of 12 tracks that will be featured on the album titled Somewhere Between the Power Lines and Palm Trees.
Ahead of their album release, the band is kicking off a 25+ date tour through North America and Japan. The tour begins on August 10 at Hermosa Beach, CA.
Dogstar was originally formed in 1994, and they released an album, Happy Endings, in 2000, before splitting up in 2002. Now, because nineties nostalgia is nonstop, Dogstar is back. And they're first single sounds amazing. Rock on, dudes!