40 Years Ago, One Underrated Chapter Book Helped Kids Talk About Trauma
It might not be as well-known as the Ramona series, but Dear Mr. Henshaw could be Beverly Cleary's most important book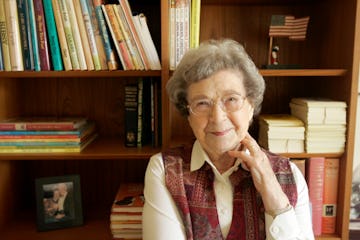 San Francisco Chronicle/Hearst Newspapers via Getty Images/Hearst Newspapers/Getty Images
We may receive a portion of sales if you purchase a product through a link in this article.
It's an undeniable fact that Beverly Cleary was a huge part of the way several generations of kids learned to read. She has been since Henry Huggins arrived in 1950, and remains a top pick for voracious young readers beyond her passing in 2021 at the age of 104. Library shelves forever enshrine her Ramona and The Mouse and The Motorcycle books, rightfully revered as timeless classics. Despite being generations apart from when they were first penned, children continue to connect with Cleary's earnest style that never forgets to throw in some laughs. Among her dozens of books, there's one underrated story that can be viewed as the most empathetic book the author ever wrote, covering a topic rarely tread upon in kids' literature written during that era.
First published four decades ago, in 1983, Dear Mr. Henshaw centers on a boy from California named Leigh Botts, who aims to be a writer when he grows up. Beginning in second grade, the youngster starts a correspondence with famous children's book author Boyd Henshaw, which continues over several years. During this time, Leigh is coping with his parents' recent divorce, trying to make sense of the confusing emotions caused by this trauma.
Mr. Henshaw responds to Leigh's sixth-grade assignment to write a letter to an author with his own set of ten questions. The aspiring author slowly and reluctantly answers probing inquiries like "Who are you?" or "What is your family like?" As time marches forward, Leigh discovers he enjoys writing to Mr. Henshaw, and the letters become a form of therapy, eventually transitioning into a personal diary addressed to "Pretend Mr. Henshaw." Leigh finds comfort in this safe space, openly addressing his fears and concerns, like why his dad doesn't say he misses him when they talk on the phone (if he remembers to call), and how Leigh doesn't like being home alone after his mom leaves for work.
While Leigh responds to his correspondence, the readers of Dear Mr. Henshaw never see a single word from the adult author. The character is merely a guide to Leigh opening up, processing his feelings, and permitting himself to have this outlet. Between his time writing letters and the lessons from his teachers, Leigh's abilities as a writer simultaneously mature while his emotional vocabulary grows. By the end, he's able to face his negligent father, understand his mother's pain, and realize the divorce wasn't his fault, while also having his first taste of success as a published author. No matter how hard he wishes, Leigh's world will never be the way it was, but like the butterflies he finds during his walks along the shore (similar to the real Monarch Butterfly Grove in Pismo Beach), Leigh grows into something new and different, comfortable with who he's become.
According to Beverly Cleary, Dear Mr. Henshaw is the most serious book she wrote during her lifetime. The story came about because two different boys wrote letters to her around the same time, asking why she hadn't written about a boy whose parents were divorced. The spark was lit, and the book flowed from her head onto paper.
Cleary's books were not typically as solitary as Dear Mr. Henshaw, and rarely delve into serious trauma. It's an outlier with its somber tone and grounded situation, although Cleary's signature humor from across her catalog of work is present. Leigh doesn't live in a bustling cul-de-sac surrounded by kids, but rather isolated in "a really little house," with his neighbors being a gas station and a thrift shop. He's lethargic to find meaning in anything that goes on around him, trapped between unfamiliar spaces, physically and emotionally. After he adds writing to his routine, his sense of abandonment fades to allow personal growth that even adult readers can admire and aspire towards.
Dear Mr. Henshaw covers many of the anxieties children feel during a divorce. It's not unusual for them to go through their own makeshift stages of grief, ranging from being mad and sad, denying the events are real while hoping everything will return to how things were before, and eventually accepting the new status quo. Kids' can react to this outwardly through anger and tantrums, while other children will internalize it and never show what they're truly feeling. Cleary reassures the reader whatever they're going through is nothing to feel ashamed about, and one can heal from the invisible wounds on their heart.
Divorce is rarely an easy transaction, no matter how old you are. Processing the good memories alongside the bad is a difficult experience, and often a source of confusion and frustration. Dear Mr. Henshaw encourages the reader to not be afraid to explore what hurts them because the only way to grow is to face them in a healthy and introspective way.
Despite earning a Newberry Medal when it was released, Dear Mr. Henshaw remains overshadowed by Cleary's more popular and light-hearted stories. It received a sequel eight years later with Strider, centered on Leigh and his friend Barry sharing custody over a stray dog they discover on a beach. While it didn't reach the level of notoriety its predecessor had, it's a perfect follow-up for children continuing their own journeys through divorce.
Cleary's books were predominantly a slice of idealized Americana, but the concept of change can be found in many of them. Dear Mr. Henshaw is a magnificent book as relevant today as it was 40 years ago, inspiring readers to look inward and answer the tough questions preventing them from finding clarity in their lives.