Exclusive: Daniel Tiger Is Going To A Wedding
Fred Rogers Productions helps prep kids for real weddings in a new special episode.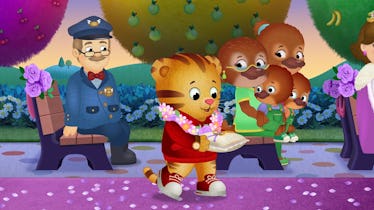 Fred Rogers Productions
It's a nice day, for a striped wedding! In all his time in the neighborhood of make-believe, Daniel Tiger has never attended a wedding — until now. On May 8, 2023, a special 30-minute-long episode of Daniel Tiger's Neighborhood will drop called "The Neighborhood Wedding." Baker Aker and Dr. Anna are getting married, and Daniel Tiger is asked to be the ring bearer.
In keeping with the overall mission of Daniel Tiger, this episode aims to help kids learn about the fact that "there are many important jobs during a wedding," and "there are lots of ways to show and express love and thoughtfulness to your neighbors, partners, and friends!"
The episode will feature a new version of the Mister Rogers classic song "There Are Many Ways to Say I Love You." It will also honor Dr. Anna and Baker Aker's cultures by including "wedding looks and jewelry that are traditional to their cultures, South Asian and Mexican, respectively."
Here's an exclusive clip from the episode.
Daniel Tiger's Neighborhood "The Neighborhood Wedding," airs on PBS on May 8, 2023. You can stream Daniel Tiger on PBS Kids and Amazon. Daniel Tiger is #14 on our 100 Best Kids Shows mega-list.