Daniel Tiger Prepares Kids for Life's Brutal Disappointments
The most hardcore show for toddlers is easily the unflinching adventures of a young Tiger in the land of make-believe.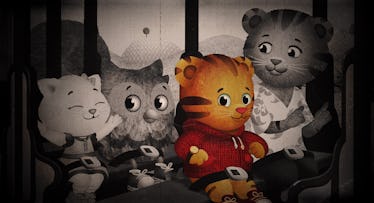 I held off for a long time letting my 25-month-old daughter watch TV. As a half-assed Luddite with an irrational distrust of Elmo, and a well-founded fear of digital music, selecting my kid's first TV show was difficult. A part of me wanted to default to something old, like Looney Tunes, but the endless violence was too much. Luckily, after some research and soul-searching, my wife and I settled on Daniel Tiger's Neighborhood and, I gotta say, I'm pretty happy with that choice. But, that doesn't mean Daniel Tiger isn't the darkest show on television, because it totally is. Daniel Tiger is great not because it sugar-coats the crushing disappointments of life, but because each episode presents an emotionally gut-wrenching conflict every two minutes. The emotional roller-coaster of Daniel and his friends totally mirrors a toddler's frenetic state of mind, which is why the never-ending conflicts of the show are brilliant.
It's also entertaining as hell. If you're not up on your Daniel Tiger mythology, the show actually exists inside of the puppet kingdom of make-believe occasionally visited by Fred Rogers in Mister Rogers' Neighborhood. When I spoke to current Daniel Tiger-showrunner and producer Christopher Loggins, he revealed that this fact partially explains why Daniel Tiger doesn't wear pants; in Mister Rogers' Neighborhood, Daniel's father didn't even have legs.
Does any of this matter? Not to your kids, but for parents (like me) who remember Mister Rogers' Neighborhood the visual lineage of King Friday and the Tiger family and that little trolley is comforting. And because the mythology of Daniel Tiger is adjacent to Mister Rogers' Neighborhood, all the thoughtful philosophy of Fred Rogers has been translated over to this show, too.
"Every script is reviewed by experts in the field of child development," Loggins told me. "Some of whom worked directly with Mr. Rogers on his program. For instance, Hedda Sharapan; she's been with Fred Rogers Productions for 40 years. She's been participating in all of the script meetings. We want to make sure we're writing the stories and having the characters speak and interact in a way that is appropriate and easily understood by children."
This hard work is very obviously evident when you watch the show. I was nervous about letting my daughter watch a segment called "Daniel Gets Mad at Dad," mostly because I was concerned it might give her ideas. But, this episode — in which Daniel simply wants to go the playground, but can't because of a scheduling problem — is just one of many, many brilliant and totally crushing conflicts the show tackles expertly. In several episodes of Daniel Tiger, characters FREAK OUT, but not in that Ren and Stimpy style that actually would make a parent worried. Instead, when Daniel or his friends face conflict, their attitudes mirror how real little kids act; they're pissed, they whine, the act out. And when those conflicts resolve themselves, all the characters — from Daniel to O the Owl to Jodi Platypus — all, eventually, model good behavior.
In other words, series creator Angela Santomauro, Loggins and the writers are all doing their job.
My daughter loves Daniel Tiger, but part of why I think she connects with it is because there is constant conflict. I'm kind of joking about this being the darkest kids show on TV, but I'm only kind of joking. Just when you think one conflict has resolved itself, another one crops up.
A good example of this is the recent episode, "The Big Slide." In less than five minutes, there are three separate conflicts: O the Owl is afraid of the slide. Next, O the Owl is still afraid of the slide. And then, after all that stuff is straightened out, Daniel himself is suddenly afraid of how much the little dinosaur-rockers are rocking back and forth on the playground. It's a minefield of emotions! There is not a moment of peace!
Well, that's not exactly true. In every single episode of Daniel Tiger, the characters traverse the emotional chasms because there's a great little song that gets them through it. And the banger to end all hit songs on Daniel Tiger is easily the song "With a Little Help, You Can Be Brave."
No, I'm not going to knock Peppa Pig, but a lot of the songs on that show are sort of nonsense kids' songs, like "Bing-Bong-Boo, I'm a crocodile at the zoo."
And while that stuff is fine, straight-up brilliance of a Daniel Tiger song like "With a Little Help You Can Be Brave," is that it's catchy as hell and it's also, well, helpful. It's helpful to kids and it's helpful to parents. Every single song on the show contains a conflict — "Look For Something to Do," "Take a Step Back and Ask," "Grown-ups Come Back," — and all those conflicts are tackled with a jingle that contains a strategy.
Loggins explains the process of how the songs are created like this: "After writing the story and the song, we'll take it out and present to a group of children and be watching for their engagement and their level of involvement with the story comprehension of what we call 'the strategy'; the little jingle that's repeated in every episode. So, we try to find a balance between entertainment and social and emotional learning."
What does all of this mean for you the parent? Well, if you already watch Daniel Tiger then you know that the show is by no means a break from strong feelings; but instead an immersion in the raw emotions of toddlers and pre-schoolers. But, because the show treats those feelings with the gravity they deserve, it does something few new kids' shows manage: It talks to children like they are people.
When your little people feel scared or sad, Daniel Tiger gives them a little song they can sing. And when my daughter sings "with a little help you can be brave," to herself, I'm a proud father. But I'm also very grateful to an emotional cartoon tiger who says weird shit like "grr-riffic!" and "tiger-tastic!" Am I hating on Daniel Tiger? Never. He's a tough tiger and I'm glad my daughter is friends with him.