The Daniel Tiger-Mister Rogers Multiverse Is Suddenly Bigger Than You Think
What if Trolley leaves the land of make-believe?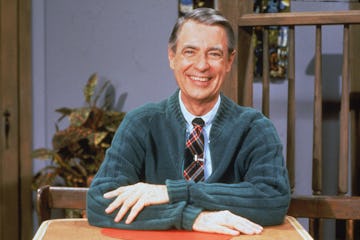 Fotos International/Archive Photos/Getty Images
If your toddler is lukewarm on Mister Rogers' Neighborhood, there's a good chance that they love the contemporary spin-off, Daniel Tiger's Neighborhood. And now, with the third spin-off show, Donkey Hodie, the multiverse of Mister Rogers and Daniel Tiger has gotten an unexpected crossover. And with this latest crossover, one generational boundary has been crossed, and the "Grr-ific" universe is starting to expand.
On August 14, 2023, Daniel Tiger returns with new episodes starting on the 14th, along with Donkey Hodie's second season kicking off that same day. And the crossover character that appears in both, is, for the first time — the Trolley! Ding ding! That's the same Trolley from Mister Rogers and Daniel Tiger, and now it has crossed over to Donkey Hodie! This is the preschool-show equivalent of the Avengers here, to be clear.
Fred Rogers grew up with a love for these vehicles stemming from his own youth and made it a signature part of his program. From the very first episode of the original series, Trolley transported us from Mister Rogers' couch into the land of Make-Believe, linking reality with fantasy. This straight-laced Willy Wonka created a whimsical world that viewers were invited to visit. There were no barriers in Mister Rogers' world, physical or temporal, and both planes of reality were treated with the same respect – the same way a child's imagination blurs that line as they sort out the world around them.
Of, course, this little red tram is no stranger to Daniel Tiger's world, an integral part of the public transportation system used in the Neighborhood of Make-Believe. Now, Trolley has jumped dimensions to visit Donkey Hodie and her friends, debuting in the season two premiere. Check out the exclusive sneak peek of this episode right here with Fatherly's exclusive clip.
Watch: Trolley From Daniel Tiger Crosses Over to Donkey Hodie
The piano swells for a moment, followed by a familiar ding, marking the arrival of Trolley in the world of Donkey Hodie. The episode, "Trolley Visits Someplace Else" answers an age-old question – the mystery of how Trolley communicates!
Ignoring the existential nightmare that's watching Trolley ambulate freely around town without visible tracks, this crossover is pretty cool. Sure, there's nostalgia, but it's also cool how the trolley from Mister Rogers, which successfully became part of Daniel Tiger is now jumping dimensions to Donkey Hodie. However, Trolley isn't the only familiar face visiting Donkey Hodie's town.
Speedy Delivery
Mister Rogers always received packages on the show, delivered by the most reliable postal worker who ever slung a mailbag across his shoulder. Much like Trolley, Mr. McFeely was there from the early days of the show, and kept Mister Rogers' inbox perpetually filled until the shows' end.
Pennsylvania native David Newell wore the blue suit and cap across those 30+ seasons of the show but passed the mantle to Derek McGrath, the voice actor who now portrays the character in Daniel Tiger's Neighborhood. Even though it's a different person taking on the mail route, this Mr. McFeely is meant to be the exact same one from the live-action version. This might make him the Dr. Strange of the Rogersverse, a mail-wielding Sorcerer Supreme who never misses a delivery date.
While Mr. McFeely hasn't shown up in Donkey Hodie, the show is adding a new character this season named Turtle-Lou. Whether this is an anthropomorphic alter-ego of this quantum leaping mailman, or an actual turtle civil servant remains to be seen, but Turtle-Lou keeps the spirit of Mr. McFeely strong as the latest resident of Someplace Else. His debut on August 16th in "Speedy Delivery" showcases this mustached reptile's quickness with postal skills against his poor memory, and inability to deliver the right packages to the right neighbors. Viewers will be treated to a new rendition of the classic "Speedy Delivery" song, another tune parents might be shocked to discover they remember the lyrics to.
In another full-circle moment for the Mister Rogers Multiverse, the original Mr. McFeely's son grew up to become a full-fledged mail carrier in Pittsburgh. Alex Newell works the real-life occupation his dad played for decades on television. To add ripples into that time loop, Alex made a cameo appearance in an episode of Daniel Tiger's Neighborhood from 2021, playing a mail carrier during a live-action interstitial segment. The package Alex brought featured another Easter Egg of the Rogersverse, sporting the numbers 143 on the box – a code Fred Rogers used to signify "I Love You."
Easter Eggs From Across the Mister Rogers Multiverse
Trolley and Mr. McFeely aren't the only things connecting this epic multiverse together. There are loads of Easter Eggs and secrets that weave this interconnected web together, some easier to spot than others.
Here's the rundown of some of these hidden treats:
Grampy Hodie from Donkey Hodie and Daniel Tiger's dad are both characters from the original live-action show. Grampy was the OG Donkey, and his granddaughter is the titular character in the puppet show.
The father of Daniel Tiger is Daniel Striped Tiger AKA the same hand-puppet who lived in a clock without hands in the land of Make-Believe. Katerina Kittycat and Prince Wednesday are also descendants of two original Mister Rogers characters.
Many other denizens of the Neighborhood of Make-Believe and Someplace Else originated from the live-action Mister Rogers, including X the Owl, Henrietta Pussycat, Lady Elaine Fairchilde, Purple Panda, Bob Dog, Harriett Elizabeth Cow, and Grandpere. Ruling over them is King Friday XIII, a monarch whose reign began in the early days of Mister Rogers, and crosses dimensions regularly to appear in both modern shows. Queen Sara Saturday continues to rule by his side, with his successor, Prince Tuesday, now a teenager.
Familiar locations from the original Mister Rogers are spread across Daniel Tiger's hometown, including the Treehouse, the Museum-Go-Round, the Royal Castle, and the aforementioned Clock Tower with no hands.
Someplace Else was also initially part of Mister Rogers, the concept stemming from how kids complained to Fred about their parents telling them to play "someplace else" instead of near them.
Donkey Hodie owns a pet goldfish named Rogers, who's not only a direct reference to Fred, but also acknowledges the fish tank seen in his television home.
Daniel Tiger laces up the same sneakers, straps on a similar wristwatch, and dons the signature red sweater that the real Fred Rogers wore for years on public television. But it wasn't just the clothes that made the puppet close to Mister Rogers' heart. Daniel Tiger was an extension of Fred himself, exposing the concerns that worried him when he grew up, and mirroring the same worries of his child audience watching at home. This explains why Daniel Tiger inherited this routine in his own show.
It's Such a Good Feeling
Seeing the same recognizable characters and elements we grew up with appear on these two shows, for many parents and little kids, will create "such a good feeling." For a lot of us, Trolley, Mr. McFeely, the puppets, the music, and everything else were constants in our life during a time when change was happening with every passing second. These elements left a mark on our young minds, teaching us self-esteem, perseverance, and understanding of our emotions. Mister Rogers was a reliable affirmation that we mattered, and Daniel Tiger and Donkey Hodie carry on this belief that developing a toddler and preschooler's emotional vocabulary allows them to carry those principles on into adulthood.
The Mister Rogers Multiverse proves there are plenty more lessons to be learned no matter how old we are, but most important, it returns to that constant, reminding kids (and adults) that every day is a special day just by being you.
Daniel Tiger's Neighborhood and Donkey Hodie can be watched on your local PBS affiliate or the PBS Kids website. Both also stream on Amazon Prime with the PBS Kids add-on.