'Bridgerton' Star Regé-Jean Page Could Be the Next James Bond — But There's a Catch
Is our next Bond hiding in plain sight?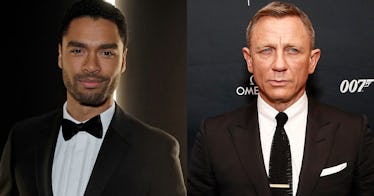 GETTY
Is the next James Bond hiding in plain sight? Could it be super-popular Bridgerton Star Regé-Jean Page? Maybe. Maybe not.
We know the agent number "007" might not just be limited to the character James Bond. It's been all but confirmed that in No Time To Die Lashana Lynch will snag the iconic digits after Daniel Craig's Bond briefly retires. That said, the character of James Bond, we've been told by Bond producers, will always remain a man. So, after No Time To Die finally hits theaters, and Daniel Craig walks away from the role, James Bond will be ready for a reboot, and that means, a brand new actor. We've previously listed a few of our favorite potential new-Bonds, but recently, one name has emerged that feels perfect: Regé-Jean Page.
Yep. That hot dude from Bridgerton is notably not returning for a second season of the popular Netflix show, which has put the UK tabloids into overdrive on the idea that Page could be the next Bond. In fairness to everyone, this kind of thing has happened before. Roger Moore was super-popular on the spy TV show The Saint before becoming Bond, Pierce Brosnan's Remington Steele was practically a super-long TV show audition to play Bond, and Timothy Dalton's Jane Eyre in 1983 made Dalton himself that era's brooding heartthrob. (Ask your wife/girlfriend/boyfriend/partner who their favorite Rochester is. If they don't say "Timothy Dalton," watch the Timothy Dalton Jane Eyre, which is free on YouTube.)
The larger point is that Page's background has a lot in common with those Bond actors. Famously, Pierce Brosnan was prevented from taking on the role of Bond in the '80s because he was locked down on Remington Steele. Now, Page doesn't have that problem. Page is also "about 31" according to Google, which means if the Bond folks want him for several movies, now is kind of the perfect time to snag him. For context, Daniel Craig was 38 when Casino Royale came out in 2006, and he's 53 now.
The other reason Page is a good pick might be obvious: He's not white. Bond is canonical English, but really, any UK actor can play him. (Connery was Scottish, Brosnan, Irish.) But, there's nothing that says Bond can't be Black. After years of rumors suggesting Idris Elba should play Bond (which would still be great!) it feels like the moment for a Black Bond is kind of imperative. While I would personally vote for Star Trek: Discovery's David Ajala (that dude is super cool), selecting Page as the new Bond makes a lot of sense right now. Everyone loves him. He's a non-white actor. He's British. Seems like we're good?
There's just one problem. Page is kind of downplaying the rumors he's going to the next Bond. According to The Mirror (a tabloid, to be clear) he apparently said: "Ah, the B-word. I think if you are British and do anything of note, that other people take notice of, then people will start talking about that. That's fairly normal and I'm flattered to be in the category of Brits that people have noticed. The concept of having plans in this moment in history is mildly hilarious. I've given up making them."
Page has a point. Just because he's British and famous doesn't automatically mean he should be the next Bond. This kind of thing happens a lot and American entertainment journalists tend to get excited about this thing a lot (guilty). On a smaller scale, this has happened several times in the past two decades with new Doctor Who actors, and, the rumors – or hopeful names — tend to be wrong every, single time.
So, as much as I would personally love Rege-Jean Page as the next Bond, wishful thinking doesn't mean it's going to happen. After all, there are a lot of British actors, and a lot of other movies and TV shows more important, and perhaps more relevant, than James Bond.
No Time To Die hits theaters on October 8, 2021.
This article was originally published on