Bob Ross Paintings Are Impossible To Buy. This One Is Selling For A Shocking Amount
Thanks to YouTube, his popularity has soared nearly well beyond his life.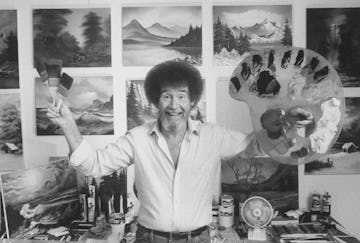 Acey Harper/The Chronicle Collection/Getty Images
Bob Ross was (and still is!) a very beloved painter who grew to fame from his iconic TV show, The Joy of Painting. He had an infectious love for painting and, of course, taught viewers to paint "happy little trees" and embraced the "happy accidents" that happen when putting paint on canvas. He's become a bit of a cultlike art hero. But if you've ever watched one of his hundreds of episodes and thought, hey, I'd love a Bob Ross painting, you've obviously been out of luck... Until now (if you're really rich, that is.)
Ross's TV show ran for 31 seasons, airing 403 30-minute episodes between 1983 and 1994, where the artist created a new painting every episode. Sadly, in 1995, Bob passed away at the age of 52, but his popularity is just as strong as ever, evidenced by a recent sale price for one of his earliest paintings.
According to ABC, Bob created the painting "A Walk in the Woods" on the very first episode of The Joy of Painting on Jan. 11, 1983. It's an oil paint canvas featuring quickly painted trees, rocks, and a river. The painting was recently listed on the Modern Artifacts Website, the outlet reports.
The Artifacts gallery is owned by Ryan Nelson, who recently listed this famous painting for sale, with an impressive list price of $9.85 million. The listing says the painting is signed by Bob and comes with a certification of authenticity.
"What this piece represents is the people's artist," Nelson, who has bought and sold more than 100 of Bob's works, told ABC, "This isn't an institution that's telling you that Bob Ross is great."
"It's not some high-brow gallery telling you that Bob Ross is great," Nelson continued. "This is the masses, the population in the world, that are saying that Bob Ross is great."
While a listing price of nearly $10 million seems intense, the painter is more popular now than ever, with new viewers tuning in to the old episodes on social media. Nelson's publicist, Megan Hoffman, told ABC that the late painter's "popularity has soared in recent years, with 5.63 million subscribers to a YouTube channel featuring his shows."
And besides the popularity — which can easily be explained by parents who grew up loving The Joy of Painting and are now watching the show with their own kids, and it's been reported that during the lockdowns of 2020, the show's popularity surged when it became available to watch on Hulu and the BBC and due to the cultural dominance of ASMR fans — there's also the fact that the paintings are just damn hard to find.
The paintings he created while on The Joy Of Painting were actually owned by the company that he worked for, rather than his own estate or he himself — and as we speak, over 1,100 original paintings by Bob Ross are tucked away in an office building in Virginia, per reporting from The Hustle. The publican reports that only a handful of paintings have ever been leased out by Bob Ross, Inc. to be viewed at galleries. About 50 can be seen at his gallery in Florida, almost 30 at the Bob Ross experience in Indiana, and 4 at the Smithsonian in Washington, D.C.
To even have the opportunity to buy a Bob Ross painting is exceedingly rare, so that $10 million asking price, though astronomical, might make sense for those in the art world. And, hey, if you have some chump change lying around...