All The Bluey Christmas Episodes Are Confusing AF — But We Have Answers
Bluey has some different holiday traditions than the typical American family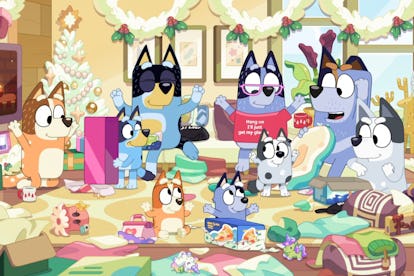 Disney/ BBC
It's not out of the blue (or the red and green) for a kids' cartoon show to have a holiday episode. Every winter, families can look forward to classics like A Charlie Brown Christmas or A Rugrats Chanukkah, or whatever holly jolly special newer shows offer their viewers. One of the hottest animated imports from Australia, Bluey, is also ready to stuff your stocking with seven minutes of self-care and hilarity.
Bluey currently has a pair of holiday episodes across their three seasons, season one's "Verandah Santa" followed by season two's "Christmas Swim." Since the show is produced in Australia and aired to the rest of the world through Disney+, both shorts feature some elements that might be odd for kids to understand, and even harder for adults to explain. Let's break it down and see if Fatherly can make your Yuletide Bluey watching a little bit easier this year!
Why is everyone swimming outdoors on Christmas in Bluey?
Depending on what part of the globe you live in, the seasons are different from how they're set up in North America. When Christmas celebrations are happening in December, Australia is enjoying its summer season, known for being the hottest period of the year.
Swimming with your family is a holiday tradition (among other outdoor sports) in Australia, as well as neighboring country New Zealand. If they're not cannonballing into their backyard pool, families head to the beach to enjoy sun and sand together instead of having snowball fights or sledding down hills.
Why is there no snow in Bluey's Christmas episodes?
This goes back to the previous answer since it's the wrong time of year for a blanket of snow in The Land Down Under! It's difficult for snow to start falling when the sun is shining down on the entire country.
Australia isn't devoid of snow, as several states including New South Wales, Tasmania, and Victoria receive a decent snowfall each year. These areas are havens for skiers and snowboarders during Australia's winter, which takes place from June to August – a patch of time when Americans are enjoying heatwaves and summer vacations.
Why is Santa Claus dressed differently in Bluey?
Throughout "Verandah Santa," jolly old Saint Nick is seen inside a snow globe. Instead of his usual thick red jacket and boots, Santa is dressed only with his cap, sunglasses, and a pair of shorts. It also seems he's traded in his reindeer for a surfboard! This isn't your typical version of Santa!
Kids will be relieved to know that Santa won't get heatstroke when he makes the rounds in warm Australia, as he's more commonly seen in beach gear than his usual wintry outfit, once again related to the climate of Australia during that time of the year.
What's the deal with the paper crowns and gift-wrapped tubes?
In "Christmas Swim," the family gathers around the table for their festive holiday meal while wearing paper crowns and playing with some sort of colorful tube. These items are part of a traditional British Christmas, an experience most Americans don't partake in.
Enjoyed across the UK and in Canada, Christmas crackers are one-part decoration and one-part interactive experience. A cardboard tube is wrapped in bright holiday-themed paper to resemble a piece of candy, with the goal for two people to pull on the ends and bust the cracker open to reveal what's inside. This opening is typically accompanied by a loud popping noise!
Just like how whoever holds the bigger part of the wishbone gets to make a wish, the person with the larger section of the cracker wins its contents. Inside these crackers are usually a paper crown, candy or a toy, and a dad joke written on a thin piece of paper, all of which are seen during Bluey's Christmas meal.
What's the Bluey family eating during Christmas?
Christmas meals aren't too different from the typical fare Americans are used to, with a few alterations to better fit the climate. There's still roasts, but instead of Turkey it's sometimes swapped for pork, which Stripe worked on in "Christmas Swim." We also see shrimp (prawns in Australia) and oysters, among other seafood which is an Aussie Christmas tradition.
Simply put – it's just easier to have faster-cooked seafood items on the menu (some served cold) rather than toiling in front of a hot stove for hours. When you've already got the summer sun beating down on you, who wants to worry about four hot pots boiling on a stovetop?
As for sweets, Chilli is seen eating Pavlova in "Verandah Santa," a dessert that earned an episode to itself in season three. Pavlova is a meringue topped with whipped cream and seasonal fresh fruit, and is considered Australia's most famous dessert. There's a simple recipe for it in Bluey's official cookbook, making it a tasty treat worth trying any time of the year.
What is "Classic Catches?"
Midway into "Christmas Swim," Bluey introduces his new toy Bartleby to his dad, who asks if he wants to go for a round of "Classic Catches." Bandit is referencing a segment on one of Australia's most famous sports programs on TV, Wide World of Sports. This show featured highlights from the country's most popular sports, including rugby, football, tennis, and cricket, which is where "Classic Catches" comes into the picture.
This segment would include epic catches from recent cricket games, occasionally turning it into a competition where fans could call in and vote for which one was the best. If you need to know more about what the sport of cricket is, that's a whole different article!
What are Frisky and Rad doing during "Christmas Swim?"
One family member not present at the Heeler family holiday event is Bandit's older brother, Rad. He's seen hanging out with Bluey's Godmother, Frisky, via a video call, in a pool while the two are on vacation together. This was the true gift for Bluey fans, as this episode followed up on this couple's first meeting in "Double Babysitter," linking the two as a romantic couple.
What the full story is between these two is still up in the air, although many fans remain hopeful the season three finale of Bluey will highlight the wedding of Frisky and Rad. Others suggest the pair eloped and already tied the knot, since Frisky told Bluey she's new to the Heeler family just like Bartleby. For the time being, there's no official update on their relationship status, but if "Christmas Swim" is any indication, it's smooth sailing for these lovebirds… or love dogs?
No matter what holiday your family celebrates, it's guaranteed to be a great time if you spend it together – and maybe even better if you watch a bit of Bluey, too!