Why The 'Rugrats' Chanukah Episode Still Burns Brightly
If you're going to watch one Chanukah episode with your kids, it might as well be this '90s classic.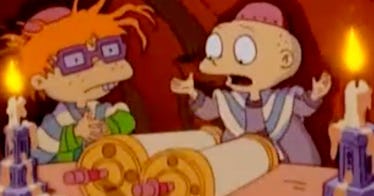 Nickelodeon via YouTube
As Chanukah arrives, families who don't celebrate Christmas are inundated with "Holiday Classics" that don't have a lot to do with the Festival of Lights. Which classic kids' cartoons have good Chanukah specials? If you want to experience one of the absolute best Chanukah holiday specials ever, you have to go back to the '90s. Yes, with our old friends Tommy, Chuckie, Lil, Phil, and Angelica, a/k/a Rugrats. Back in December 1996, Nickelodeon kicked off season four of their acclaimed animated show with an episode simply titled, "Chanukah."
"The babies learn the story of Chanukah while visiting a synagogue with Boris, putting themselves in the action," read the official synopsis. "Meanwhile Boris and his old rival Meanie (a/k/a Schlomo) work out their long-standing feud."I watched this episode with my kids a few years after it originally aired, and sitting down the other day to catch it again after more than 20 years was a treat. The flashbacks to Jewish history are more boldly drawn than usual for the show, and the music by Mark Mothersbaugh, which was always great, is even more joyous than usual. Plus, the line "A Macca-baby's got to do what a Macca-baby's got to do" remains utterly winsome. Director Raymie Muzquiz and co-writers J. David Stem and David N. Weiss spin a story that's at once complex and simple, choosing to tell the classic tale at a mature level while leaving it to young viewers – and the characters – to absorb as much as their still-forming brains can handle. So, even if the word "miracle" gets mangled into "mirable," the point still comes across. And the creative team doesn't try to explore the full Chanukah saga, just the highlights, which is smartly handled by utilizing a framing device that involves Boris and Schlomo settling their differences and then gathering with the kids to read pages from a story book about the holiday. Adults of a certain age will probably appreciate the thick Yiddish accents of the older characters (though the visual depictions of them caused some controversy at the time). Voiceover veteran Michael Bell does the talking for Boris (and such other Rugrats characters as Drew, Chas, and Spike), while the beloved movie, TV, and Yiddish theater actor Fyvush Finkel (who died in 2016) provided the voice of Schlomo in his one and only visit to Rugrats. And listen closely for the voices of other familiar Jewish actors, including Ron Leibman, Alan Rosenberg, and Alan Rachins. There are old man jokes: "I'm up to my dentures in kindela!" But the sweetest moment arrives when Schlomo, much to Boris's surprise, perfectly explains the importance and legacy of the menorah and its burning for eight nights. "In times of darkness," he shares, "it shines on the whole world, reminding us not to be afraid to be different, but to be proud of who we are."Chanukah sameach!"Rugrats Chanukah" is streaming on CBS All Access, Pluto TV, Hulu, Fubo, Philo, and Amazon Prime Video.
This article was originally published on