The 10 Best Anti-Racist Young Adult Books
Becoming anti-racist takes work. These books are a great place to start.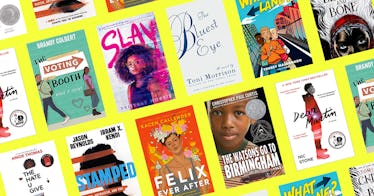 Many of the young adult books you were raised on were racist. Most were probably written by white authors that schools historically and still do overrepresent in the curriculum. And those authors weren't checking their biases. Their racism may have been outright, such as in Little House on the Prairie, which includes the repeated phrase "The only good Indian is a dead Indian." It may have been controversial, such as Mark Twain's use of the n-word in Adventures of Huckleberry Finn. It may have been more subtle, such as racist depictions and problematic stereotypes in To Kill a Mockingbird. That's right. Even books that schools use to teach about racism are racist.
Some books from back in the day, mostly written by authors of color, shone a light on racism and its devastating effects. They have paved the way for many more that teach teens about racism while still being a damn good read. Some tackle the issues through realistic fiction, taking on police brutality and Black voter suppression. Some dive into the world of fantasy to demonstrate how othering people is harmful. Many address how compounding and intersecting issues of oppression affect Black people in this country, such as Black transgender people. Reading and understanding them — and celebrating Black joy, not just Black pain — is crucial to becoming a better ally. And if your kid is Black, these stories might provide characters and storylines that they can relate to.
Every product on Fatherly is independently selected by our editors, writers, and experts. If you click a link on our site and buy something, we may earn an affiliate commission.
This article was originally published on