Asteroid City Looks Like A Welcome Return To A Classic Wes Anderson Formula
The new trailer feels like The Royal Tenenbaums 2, in a good way.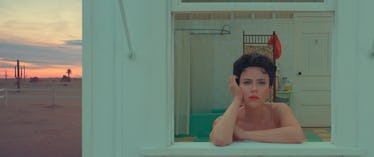 Focus Features
Wes Anderson movies are basically their own genre. But, within the twee alternate realities of his consistently unique films, one formula tends to feel more classic. While films like The French Dispatch and The Grand Budapest Hotel have their merits, it's safe to say that a huge portion of Anderson's fanbase likes movies that are about family angst. And in this way, it looks like Anderson's next movie, Asteroid City, is going back to what we love.
The first trailer for Asteroid City dropped on March 29, 2023, and if you don't already love the dry, whimsical style of Anderson's movies, this film is either going to convert you or confuse you. Either way, it looks great. The story focuses on a father, played by Jason Schwartzman, who, along with his precocious children, is trapped in a tourist attraction town called "Asteroid City." Soon, it appears that Asteroid City goes into lockdown, putting a huge cast of kooky cast of characters — including Tom Hanks, Scarlett Johansson, and Jeffrey Wright, to just name a few — into a bizarre and hilarious kind of psychological pressure cooker.
What is the movie about? At one point, we're told it's about "The meaning of life! Maybe there is one!" Figuring out if the aliens are real or not may not be important in the end. Get ready to have Asteroid City give meaning to your summer this year. Like all Wes Anderson films, we think this one looks great for date night, and totally worth the babysitter hassle to see it on the big screen.
Watch the trailer right here.
Asteroid City release date
The new Wes Anderson film, Asteroid City, hits theaters in a limited release starting Friday, June 16, 2023. It will then open nationwide on Friday, June 23, 2023.