43 Years Later, John Lennon's Voice Will Be Augmented By AI For "Final" Beatles Song
The song "Now and Then" has existed since 1980.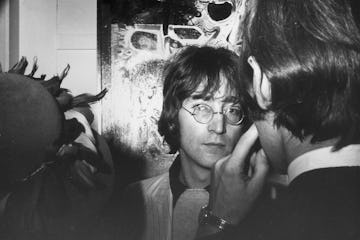 Andrew Maclear/RETIRED/Hulton Archive/Getty Images
Over four decades after his death, John Lennon will once again sing with The Beatles. Well, sort of. Paul McCartney has revealed that an unreleased Lennon recording called "Now and Then" will be released sometime in 2023 as a kind of digital Beatles reunion song. And, although a demo of this song has existed since 1980, machine learning technology will be used to create a new version of the track as a "new" Beatles song.
Here's what to know about the AI John Lennon, 2023 Beatles song, which may or may not be called "Now and Then."
Is "Now and Then" a Beatles song?
"Now and Then" is a demo of a song recorded by John Lennon sometime in 1980. It was recorded on a cassette on a boombox in his home at the Dakota in New York City in the year before his death on December 9, 1980. This means that "Now and Then" is not a Beatles song, but rather, an incomplete song from John Lennon's solo career. Its notoriety is mostly connected to the fact that it is likely one of the last unreleased tracks that John Lennon recorded.
Is AI Being Used To Make A Fake John Lennon?
In the case of a new version of "Now and Then," Paul McCartney has said that machine learning has been used to isolate and augment the vocal track of "Now and Then." In a new interview with the BBC, McCartney said: "We had John's voice and a piano and he could separate them with AI. They tell the machine, 'That's the voice. This is a guitar. Lose the guitar.'"
This means that, essentially, McCartney is using AI as a complex editing tool. Would John Lennon approve? It seems doubtful, but Yoko Ono did give this recording to McCartney in the 1990s, around the time the surviving Beatles were creating other songs featuring posthumous John Lennon recordings.
John Lennon's voice was brought back in 1995
In 1995, for the retrospective Beatles: Anthology, two "new" songs were released: "Real Love" and "Free As A Bird." In both cases, the then-surviving Beatles — Paul McCartney, George Harrison, and Ringo Starr — played new music that was mixed with existing vocal tracks, which, again, were given to Paul by Yoko Ono. Rather than AI, at the time, the brilliant Jeff Lynne had a hand in cleaning up those tracks. (Although "Real Love" had been released by John Lennon as a solo song many years earlier.)
In 1995 the ethics of both "Free as a Bird" and "Real Love" were dubious, because the idea of a posthumous performance from a vocal artist was still fairly rare. Now, with AI creating fake versions of songs in the styles of well-known artists, the novelty of the 1995 Beatles songs is somewhat diminished. Then again, in both cases — 1995 and now — an original recording by an actual human is still the basis for the "new" art.
Thankfully Paul McCartney has not created a digital John Lennon from scratch, otherwise, we really wouldn't ever be able to tell who the Walrus was.
The new Beatles "reunion" song is thought to release sometime in late 2023.