John Lennon Should Have Turned 80 This Month And It Sucks That He Didn't
Wish this guy was still around.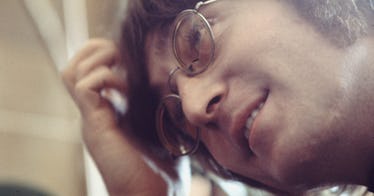 Getty
Certain days stir the feels within us: birthdays, wedding anniversaries, the sad occasion a loved one died. But some days, well, they whip up a tsunami of emotions. That day, for many people, is October 9.
John Lennon was born on October 9, 1940. The man literally changed the world through the power of his music, lyrics, and the sheer force of his personality, and he did so both as a member of the Beatles and as a solo act. Fans all over the world toasted to his birthday last week, but they also mourned a bit more than usual because Lennon would have turned 80 had he not been shot to death in 1980 by a deranged fan. Fellow Beatle Ringo Starr celebrated his birthday in July, which makes many of us feel pretty old, but, sadder still, that Lennon will soon be gone longer than he was alive. That's a damn tragedy.Even a cursory visit to Google makes the passage of time all the more glaring. Lennon and his wife, Yoko Ono, welcomed their only son together, Sean, into the world on October 9, 1975. That means that Sean turned 45 the other day. A little boy when his dad died, Sean is an adult nearing middle age. Then there's Ono. An icon in her own right despite the haters who claimed she broke up the Beatles, she's – are you ready? – 87 years old now, and will turn 88 in February. She apparently remains as sharp as ever, in mind and business savvy, but has been photographed in recent years using a wheelchair during increasingly rare forays out of the Dakota, the New York City building where she lived with Lennon.Fortunately, Lennon's music remains. It is, in a word, ageless. Among his most enduring Beatles classics are "Strawberry Fields Forever," "In My Life," "All You Need Is Love," "Revolution," "Across the Universe," "Come Together" and "A Day in the Life." Some hardcore fans believe that Lennon's solo work is superior, and it's hard to argue the point. There's the fury of "Well, Well, Well," "God," "Working Class Hero" and "Remember" (and the infamous 5th of November is my birthday), the heartbreak of "Isolation," the unvarnished honesty of "Jealous Guy," "God," and "Watching the Wheels," and the hopefulness and affection inherent in "Imagine," "Oh, Yoko," "Grow Old Along with Me," and "Woman." But nothing hits home more than "Beautiful Boy." Lennon was a volatile man and, by all accounts, not much of a father to his older son, Julian. However, by 1980, Lennon seemed to have grown up, matured, and he'd settled into fathering Sean, then five years old. "Beautiful Boy," his ode to Sean, is gorgeous, a bedtime song like no other. The opening lyrics alone are a treasure for any child to hear: "Close your eyes/Have no fear/The monster's gone/He's on the run/And your daddy's here." How many of us wish our own dad could have left behind something as loving and eternal? That said, it's not even the song's most tear-inducing lyric. That distinction goes to "Life is what happens to you while you're busy making other plans," which has become a personal motto for so many.
Lennon touched millions of people with his songs, wit, activism, personal struggles, and triumphs — and also, in death, with all the promise he deserved to realize for decades to come. We all got cheated out of that. Happy belated birthday, John. And… thank you.
This article was originally published on