25 Years Ago, Four Massive Rap Albums Were Dropped On The Same Freaking Day
Whether you remember it or not, this is when Hip hop changed forever.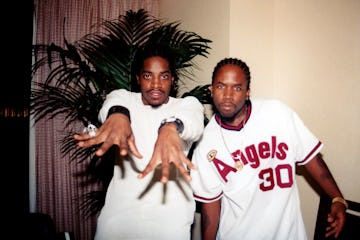 Raymond Boyd/Michael Ochs Archives/Getty Images
The Fatherly Turntable
We may receive a portion of sales if you purchase a product through a link in this article.
Whether by quality or quantity, it's difficult to argue that any album release day was more significant in rap music than September 29, 1998. This was an Avengers moment for Hip hop, an era in which each album had its own superpowers, and is still considered noteworthy for different reasons. When you put these four albums together — Jay-Z's Vol II: Hard Knock Life, OutKast's Aquemini, Mos Def & Talib Kweli Are Black Star, and A Tribe Called Quest's The Love Movement — the combined assemblage had a little something for everyone. From blockbuster, radio hits to cerebral flows to bohemian space sounds that cranked up the heat in Atlanta's rap scene.
Whether you're a Hip hop completist, or educating your kids about the importance of the greatest Hip hop and rap albums of all time, the 1998 mega-event of September 29 cannot be ignored. Here's why these four monumental albums are so wonderful, and why we're still spinning each of them to this day.
Jay-Z's Vol II: Hard Knock Life
Before filling arenas as a headliner and touring as a twin bill with Kanye West and later Beyonce, Jay-Z was opening for Puff Daddy on his 1997 No Way Out tour. It was during one of those shows that he heard legendary DJ Kid Capri spin a beat that sampled "It's The Hard Knock Life" from the musical Annie. HOVA recognized the tune from watching Annie on television and immediately knew he wanted to use the beat for an upcoming track. That desire eventually came to fruition, but not without hustling a bit to get the sample cleared.
When his first attempt at getting permission to use the Broadway tune was rejected, Jay-Z followed up with a heartfelt letter to Annie's composers describing how, after entering an essay contest as a seventh grader, he won tickets to see Annie on Broadway and fell in love with the musical because of how strongly he identified with the title character.
The story was a lie. But it was an effective lie, as the composers cleared the sample.
And with that, Jay-Z had a title track for an album that would debut at #1 on the Billboard Top 200 and go on to win a Grammy Award for Best Rap Album. Though not the first single released from the album, "Hard Knock Life (Ghetto Anthem)" was the most popular track from Vol. II: Hardknock Life, introduced the masses to Jay-Z and would itself grab a Grammy Nomination for Best Rap Performance.
But "Hard Knock Life (Ghetto Anthem)" wasn't the only hit on the album. Already pegged as one of the most gifted lyricists of his generation by this point, Vol II. marked a turning point for Jay-Z as he realized that in addition to making people bob their heads, he could also make them dance. And that took him to the radio and onto dance floors far more than he had ever been before.
Though it required heavy editing to make its way to radio, "Can I Get A..." utilized a call-and-response chorus that proved perfect for DJ sets. And though not released as a single, teaming up with Atlanta-based producer Jermaine Dupri for "Money Ain't a Thang" brought a brighter sound to Jay-Z's rhymes that helped him both ride and guide the trending wave away from gangsta rap toward the bling rap era of the early 2000s.
Once Vol. II: Hardknock Life pushed Jay-Z firmly into the mainstream, he never left. Even today, he and Dr. Dre are the two most influential figures in rap music and pop culture, with Jay-Z's company Rock Nation counting production of the Superbowl Halftime Show as one of its responsibilities, which is about as big as it gets.
OutKast's Aquemini
In 1998, OutKast members Big Boi and Andre 3000 were a couple of 22-year-olds releasing their third project in four years. Whereas most young artists at this point would have let producers mold an album with strong pop influences and numerous features to increase the chances of radio play, OutKast went the opposite direction.
The duo self-produced most of the tracks on Aquemini and, in doing so, made the most of their creative license. Running with the space theme from their previous album, they incorporated otherworldly sounds into their music with the help of a rotating cast of live session musicians whom they gave freedom to experiment and improvise.
The Afro-futuristic album is an interesting case study of what constitutes a successful project. None of its three singles charted well, which is perhaps to be expected as the album wasn't composed with an ear toward radio play. And Aquemini garnered scant attention on the awards scene.
But critics loved Aquemini, placing it on dozens of "best-of" lists even as recently as its top-50 placement on Rolling Stone's Greatest Albums of All-Time revision in 2020. It sold well the year after its release, going platinum in November, achieving double platinum status on July 2, 1999, and peaking at number two on both the Billboard 200 and the Top R&B/Hip-Hop Albums chart.
Outkast's future albums may have delivered more hits, but Aquemini reigns amongst their offerings in regard to creative prowess.
Mos Def & Talib Kweli Are Black Star
OutKast wasn't the only cerebral rap duo to release an album on September 29, 1998. The aptly titled Mos Def & Talib Kweli Are Black Star served as the introduction to two rappers who, until that point, had only released singles and appeared on mixtapes that circulated on the underground alternative rap scene.
In both content and styling, Black Star deliberately pushed back against current trends in hip-hop. The album's beats sound clean and stripped down compared to the highly produced and sample-heavy hits on Jay-Z's album. And lyrically, the rappers hit on themes like the prevalence of violent imagery in rap music as they did on "Definition," where the chorus includes the classic refrain "They shot 2Pac and Biggie!"
The duo also pushes against conventional beauty standards and the "video girl" trend in "Brown Skin Lady," which manages to thread the needle of sounding playful and prophetic without getting preachy. It's no small feat to sample Gil Scott-Heron and Brian Jackson's "We Almost Lost Detroit" for a track that delves into the cultural and historical influences of Black women and then come out on the other side with a song people want to vibe to, but Black Star managed to thread that needle masterfully.
While never widely popular per se, Black Star is an album that's always been respected by hip-hop fans and is viewed as one of the albums that helped push conscious rap more into the mainstream, piquing the public's curiosity in groups like The Roots, Souls of Mischief and Hieroglyphics.
Like most prophets, both Mos Def and Talib Kweli embodied an enigmatic energy. They remained on good terms but wouldn't record another album together for nearly 25 years. Both rappers released solo projects, embraced activism, and remained active in the hip-hop community over that time period.
The public appetite for Black Star's return remained high enough during their hiatus that when they finally released new music last year, they were invited to perform it on SNL. Fittingly, the episode was hosted by Dave Chappelle, on whose show and concert documentary they appeared in early 2003, creating an apt bookend to their hiatus as a group.
A Tribe Called Quest's The Love Movement
Tribe's final album released during Phife Dawg's lifetime was originally slated to land months before this date. Unfortunately, Q-Tip's vast record collection and a computer with many of the group's unreleased songs were destroyed in a fire at his home recording studio, making original release plans impossible to achieve.
Anticipation for the album continued to grow in the month before its release when the group announced they were disbanding and that The Love Movement would be their final album together. It proved to be a capable — if not remarkable — offering where Tribe continued to utilize their jazz-infused stylings, though it didn't ascend to the heights of their previous three albums.
Or perhaps the fact that The Love Movement failed to demonstrate an evolution of sound for Tribe dampened its reception. Hip hop was changing and Tribe was caught in the space of resisting new trends while not yet getting due credit for influencing groups like Black Star and other members of rap's burgeoning counterculture.
Still, The Love Movement was well received by critics, sold over 500,000 copies, and was nominated for a Grammy Award for Best Rap Album. And it wouldn't end up being Tribe's last album after all, nor would it be the only one struck by tragic timing.
Shortly after reuniting to record new music, Phife Dawg passed away as a result of complications from diabetes in March 2016. We Got It from Here...Thank You 4 Your Service was still released on November 11, 2016, with a reinvigorated sound and posthumous verses from Phife Dawg that struck emotional chords as fans celebrated long-awaited new music, mourned the loss of Phife, and processed the 2016 presidential election. But, it's hard to argue that, in another twenty-five years, Tribe fans won't still be obsessed with The Love Movement. To this day, it's one of the greatest pieces of Hip hop art, ever created.