Big Boi Says His Kids Were "Instrumental" To His Outkast Success
Big Boi loves his kids, André, his next project, and the life he built for himself.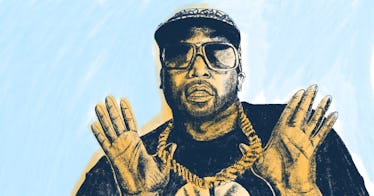 Julia Barnes for Fatherly
If you were alive in the Year of Our Lord 2003, you know the lyrics to "Hey Ya," Outkast's alright alright alright alright alright alright alright alright alright alright alright alright alright alright alright party anthem. The song didn't introduce André "André 3000" Benjamin and Antwan André "Big Boi" Patton to the popular consciousness — they were already running the Atlanta scene — but it made them the biggest act in America and granted them hip-hop godhead status. Big Boi did not fade away. Even after Outkast broke up — reuniting later in front of the writhing midriffs at Coachella — he has remained a pillar of the music community. "All Night," his 2017 single, slapped. His shows remain excellent.
So do his three kids, the oldest of whom graduated from college this year (which probably makes you feel a bit old). Big Boi takes fatherhood seriously and talking to him about it is fascinating. With many celebrities, the public persona and the private life are separate if not at odds. Talking to Big Boi, it's clear that the man is exceptionally consistent. Public Big Boi and private Big Boi are basically the same dude. He has swagger, but he's totally unafraid to care. He's like most good dudes, just more talented and smarter.
Also, he works his ass off. I had to wait about a minute to be transferred to Big Boi and when he came on the line, my phone was blasted with a new hip-hop track. He apologized quickly and turned down the music. "Sorry," he said. "I'm in the studio, making a jam." I found that hard to respond to as a statement. No need to apologize.
What followed was one of the nicest, most rapid-fire conversations I've ever had with a famous person. Big Boi doesn't hesitate in his answers and isn't self-conscious. He's patient, but direct. He's thoughtful, but straightforward. He has a vision of himself and his life. To speak to Big Boi is to admire him and become a fan all over again.
Big Boi spoke to Fatherly about why it's important that kids have their own turntables for vinyl records, why Twitter can "suck a bag of dicks," and the best kind of dog to buy for your family.
You're in the studio while talking to me. Are you working all the time?
Pretty much. I mean, that's what I do. I mean, if I'm not on the road, I'm in the studio. I just keep stockpiling song after song, you know?
How has being a father helped you as an artist?
Hard work and perseverance will get you to your dream. So, to me, having a family has been a benefit to being an artist. I bring the kids to the studio a lot and they participate. I play new stuff for them and my kids are instrumental in my success. They've been very supportive and understanding. And if I'm not here, I'm with them. I set my calendar around them.
On the days I'm not being daddy, I'm in the studio. Or I'm on the road
Did Outkast reunite for your son's graduation? There were a bunch of rumors on Twitter about that. But, you know, Twitter.
Absolutely not. We did not perform! There was some stuff about an Outkast reunion in the news, but we've got a life outside of these things. André and I have been best friends — brothers — since we were like 15-years-old and people came to know us as a group, Before the group, there was Antwan and André, the friends. And now, we're doing what we do best, which is just living like we earned to live. We're just enjoying it.
How do you expose your kids to music? I only let my kid listen to vinyl. I know your kids are bigger now, but how did you do it?
Turntable. Yep. Actually, all three of my kids have turntables. They have vinyl collections and when they go buy music, they physically buy the albums. My daughter has a crazy collection of everything. What's the name of that place — they sell clothes and shit and everything —
Urban Outfitters?
Exactamundo! They can go in there and get vinyl if they want. We also like the Atlanta Wax N'Facts. I've also got a subscription to this service called Vinyl Me, Please and they send you like a different album; a different reissue every month. Parliament Funkadelic, Nirvana, Guns and Roses, whatever. And for my kids to be kicking to that music and loving it is just great. Their musical palette is so diverse, that any father would be proud. Especially one who does music for a living.
I don't really listen to children's music with my kid. Did you? When they were little?
No. They listened to whatever I was listening to at the time. You know what I mean? So, that was a lot of Outkast and a lot of stuff from daddy's collection; from The Isley Brothers to Bob Marley to Kate Bush to Dennis Brown. That's what they grew up on. You gotta keep your kids well-rounded. You have to expand their minds and their imaginations, so they're not just stuck to being programmed by the radio and whatever the radio wants to pump into the kids' heads these days.
Yeah, it's a struggle though, right? Like, I have to actually say, "we're not playing music off the phone today."
But you have to. That's hands-on-parenting right there.
What is a classic track for you? What do you want your kids to listen to? You've shown some eclectic tastes on social media….
A classic track is just something you can throw on at any time and you can vibe to it and it can bring back memories. But, puss-ass Twitter did suspend my account where I shared them, because they said I was violating copyrights or something when I was just sharing music and turning people onto certain things. So, they can eat a bag of baby donkey dicks for suspending me, motherfuckers. I mean, I'm just sharing music, I'm not selling shit on there. Just turning people onto some new shit they might not have heard.
You breed pit-bulls. What's the best dog for a dad?
Well, right now, we have pit bulls, we have Frenchies and wife has two Rottweilers that live in the house with me. It depends on what you want a dog for. For protection, the Rottweilers are the best. They're great with kids; they'll let you know if somebody's at the driveway or someone's outside the house — give you enough time to get your pistol and light their ass up —but, a good family dog is a Frenchie. My daughter got one for graduation and she's absolutely in love with it. They're great pets.
What's next for you?
The next thing you'll be seeing from me is the Big Sleepover, which is a group I formed with Sleepy Brown, and we got some great fucking music we've been working on for the past six months. That's what I'm in the studio recording right now. That's going to come out this summer. That's what it is.
I got a lot more surprises left in the year.
The Big Sleepover has yet to be released.