10 Best Halloween Movies For Kids On Amazon
by Alicia Kort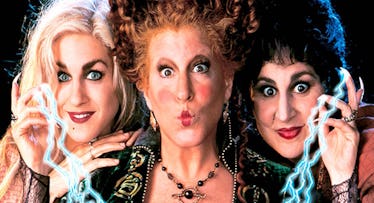 Disney
We're weeks away from the ultimate dress-up day: Halloween. Celebrate this ancient holiday, which was originally created by the Celtics to ward off ghosts and other malicious spirits, with some family-friendly All Hallows Eve movies on Amazon. Most of the movies on this particular list are silly rather than bone-chillingly scary, but it can be good to remind your children that sometimes laughter is the best antidote to fear. At least, it is according to J.K. Rowling. Halloween is meant to be fun and encompasses a lot of fall traditions, which movies like The Cat in the Hat Knows a Lot About Halloween!, explains to kids. You can also use Halloween as a way to introduce children to your favorite movies, like Ghostbusters for example. There's nothing like showing your kids something you love and bonding over it. So rip open a bag of Halloween candy that's meant for the trick-or-treaters and get ready for a Halloween movie marathon with these films from Amazon.
1. 'The Cat in the Hat Knows a Lot About Halloween!'
The Cat in the Hat is back with Thing 1 and Thing 2 to take protagonists Nick and Sally on the ultimate Halloween adventure. Nick and Sally even find the best Halloween costumes ever in the Oooky-ma-kooky Closet. There's even a surprise for parents in there. Actor and comedian Martin Short voices this iconic cat. You can stream this movie on Amazon with Amazon Prime.
2. 'ParaNorman'
Norman isn't just any normal boy. He can hear and speak to the dead, which obviously makes him an outcast in his town. But when his town falls under a centuries-old curse, Norman must use his special abilities to save it. This film was created by the makers of Coraline and was nominated for an Oscar for Best Animated Feature. You can rent this film on Amazon.
3. 'Ghostbusters'
Your kids might already be familiar with the famous "Ghostbusters" theme song, so you might as well introduce them to the film. The Ghostbusters must save New York City from a ghostly apocalypse, even though the U.S. government has done everything to discredit them. The film stars Bill Murray, Dan Aykroyd, Harold Ramis, Eddie Murphy, and Sigourney Weaver. Ghostbusters is available to stream on Amazon Prime. Note: this movie is mostly for the teenagers or preteens who can handle all the adult-innuendos. (But let's face it, many of us saw this movie way too young, too.)
4. 'Halloween Town'
Marine and her siblings are in for a bit of a shock when they find out that they're from a family of witches. In this beloved Disney Channel Original movie, the siblings' journey to Halloweentown with their grandma (Debbie Reynolds) and immediately become embroiled in Halloweentown's crisis. Marine and her two younger siblings have to save the supernatural creatures that live there. Come for the late Debbie Reynolds' performance as a witchy grandma, stay for this fun adventure. Halloweentown is available to rent on Amazon.
5. 'Scooby-Doo On Zombie Island'
Zoinks! Is it really Halloween without watching some kind of Scooby-Doo classic? In this made-for-TV movie, Scoobs and the gang venture down to a haunted bayou to solve a mystery about Moonscar the Pirate. What they find instead is much scarier. There's no person behind a mask this time. The monsters are real, and they have to put their heads together to figure out what to do. This movie is available for rental on Amazon.
6. 'Mom's Got a Date With a Vampire'
When a grounded brother and sister want to sneak out from under their mother's eye to partake in some Halloween fun, they come up with a brilliant idea. They set their mother up on a date with the handsome Dimitri. Unfortunately for the siblings, Dimitri is a vampire and now they have to save their mom before it's too late. This funny Disney Channel Original movie is available for rent on Amazon.
7. 'Hocus Pocus'
This cult classic Disney Original Movie is a must-see for kids during Halloween. When a group of pranksters accidentally set three 17th-century witches free, the town turns upside down. Bette Midler, Sarah Jessica Parker and Kathy Najimy are hilariously campy in Hocus Pocus. The witches aren't exactly familiar with the modern world after all, which results in a lot of gags. And there's a talking cat. This CLASSIC film is available to rent on Amazon.
8.'Hotel Transylvania'
This first Hotel Transylvania movie was so well received that it launched a franchise. Take a look back at the movie that started it all with your kids. Count Dracula, voiced by Adam Sandler, has run a successful 5-stake resort for monsters for a while now, but everything changes when a human somehow gets in. Hotel Transylvania is available to rent on Amazon.
9.'The Witches'
An orphan, Luke, is uprooted from America to go live with his grandmother. She teaches him all about the dangers of witches who lurk in disguise and plot to deaths of children. Luke accidentally stumbles upon a witches' convention in England and realizes that he's in a lot of trouble. This movie stars Anjelica Huston as the Grand High Witch. This movie is this is a little darker than some of the other films on this list, and the witches are terrifying. Keep this in mind before showing it to young children. It's available to rent on Amazon.
10. 'Thomas & Friends: Halloween Adventures'
Thomas and his friends go explore the Spooky Island of Sodor, because they believe it's filled with ghosts. The trains learn, however, that not everything is as it seems. They seek to find an explanation to this mystery. This fun film for young children is available to stream on Amazon Prime.
This article was originally published on