5 Things To Know About 'Star Wars: Episode IX' Family Reunion
Leia's back. Luke's back. Lando's back!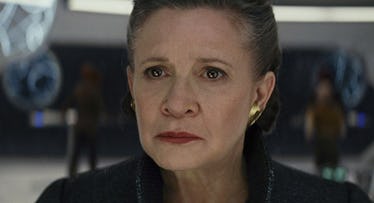 Lucasfilm
It looks like the next Star Wars film — and the last in the new trilogy — will be a huge family reunion in space. Not only are the rumors about Luke Skywalker and Lando Calrissian returning true, Carrie Fisher will appear posthumously as General Leia Organa. Here's, briefly, what it all means.
Last week, Lucasfilm officially announced the primary cast for the as-yet-untitled Star Wars: Episode IX. Not only was that Keri Russell rumor totally confirmed but director J.J. Abrams also revealed that Leia will appear in the movie thanks to unused footage filmed for The Force Awakens. Mark Hamill also said that was excited to work with Billy Dee Williams again, and that the inclusion of Fisher in the movie posthumously is "bittersweet." Because it's still a year and a half wait for this movie to even come out, what are the big takeaways?
This Star Wars Movie Will Wrap Up the "Main" Star Wars Saga
Abrams called Episode IX, the "conclusion to the Skywalker saga," in the official Star Wars press release. This can only really mean one thing: this probably the last Star Wars movie to use the episode numbers, or at the very least, the last one to feature any family members of who are connected to Anakin Skywalker/Darth Vader. In other words, after 2019, the core Star Wars story will be Episodes 1-9, and that's it. Any other Star Wars movies will be their own thing.
Luke Returning Might Not Mean What We Think It Means
Because Luke became one with the Force in The Last Jedi, it's a foregone conclusion that Mark Hamill's return as Master Skywalker in Episode IX establishes the idea that he'll appear as a ghost, probably to Rey, and maybe even to his sister, Leia. But, maybe not? There were a lot of flashbacks in The Last Jedi, which means Luke could appear via flashbacks in this movie, too.
Lando and Leia Might Be Cameos
Because of the limited amount of archival material Abrams has to work with from The Force Awakens, it seems like Leia probably won't have much more than a Cameo. Because Lucasfilm has ruled-out using a computer-generated Leia, it seems like whatever happens here has to be small. In December 2017, Last Jedi director Rian Johnson said that he gave access to all deleted material from that movie to J.J. Abrams, but admitted "I don't think there's anything there. The truth is, there isn't a ton of her that we shot that we didn't use in this movie." So, it seems like if Abrams is only working with stuff from two movies ago, the scenes will have to be short.
Keri Russell Could Also Exist in Flashbacks
Obviously, no one has an idea who Keri Rusell is playing at this point, but the leading theory is that she'll be Luke Skywalker's love interest Mara Jade, glimpsed only in flashbacks. In the old Star Wars books, Mara was Luke's wife and Russell would be a great actor to play her. But, if that does happen, it stands to reason this stuff won't be in the main part of the movie. Unless of course, Russell is playing some other character entirely.
Richard E. Grant Has Gotta Be a New Bad Guy
Character actor Richard E. Grant was most recently the bad guy in Logan, plus he played an epic bad guy in Doctor Who back in 2012. So, will he be a bad guy again? You bet. Some fans think he's playing the blue-skinned baddie Grand Admiral Thrawn, who is a big deal in the old Star Wars books and also the animated series Rebels. Either way, the idea that Grant won't be a bad guy, based on his acting chops seems insane.
-Star Wars: Episode IX will be out in theaters on December 20, 2019-
This article was originally published on