8 Diaper Bags That Go Big When Your Family's Not Home
Before you pack the car, we suggest you pack one of our eight favorite bags that can handle the haul of your kid's supplies for days on the road.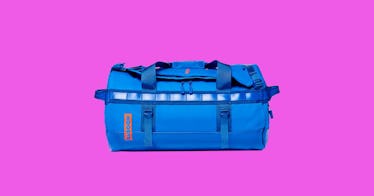 Holidays got you away for days? These are the bags that carry everything baby needs
With the holidays approaching, dads around the country are confronted with a unique problem: the needs of a long weekend when compared with those of an overnight stay. When the long trip to the in-laws looms, do you really want to be sharing your suitcase with spare nappies? For situations like these, we bring out the big guns, the black-hole bags that can store as much as we'll need and keep it in some semblance of organization for our stay. (You can pack your own diaper backpack or dad bag separately, and keep it close at hand.) Before you pack the car, we suggest you pack one of our eight favorite bags that can handle the haul of your kid's supplies for days on the road.
Baboon Go-Bag
Can a bag be both playful and bomber? The Baboon Go-Bag has a foot in both worlds. Lined with a fluorescent orange dinosaurs-on-parade motif, it's hardly serious, and yet the brightly colored interior, with three pockets, has a serious function in that all of your hard-to-find items are easily recognizable in its luminance. Outside, its ballistic-grade shell is waterproofed and ready to withstand serious assault thanks to alpine-grade, double-stitched construction. Holding 45 liters, there's plenty to protect.
BUY NOW $149 (https://baboontothemoon.com/products/go-bag-small-duffle#variant=blue-dinos-in-paradise)
Mission Workshop The Shed
As its name suggests, Mission Workshop's 32-liter The Shed holds a ton. This messenger bag-style luggage secures smaller loads with a rolltop-style closure while bigger loads are accommodated with a flap-style design. Inside, multiple quick-access cargo pockets and four internal zippered pockets keep sundries organized. A weatherproof, abrasion-resistant exterior keeps it all safe and dry, while a removable cross-chest stabilizer strap prevents bounce on the go.
BUY NOW $205 (https://missionworkshop.com/collections/messenger-bags/products/the-shed-messenger-bag)
Lululemon Assert Duffel
Haul the 39-liter Lululemon Assert Duffel as either a backpack or by its side carrying handle. Its weather-resistant exterior fabric wipes clean—a boon for those with messy kids—while dual side zippered pockets allow for fast access to wet wipes. A zippered exterior shoe pocket, sealed and separate from the massive main compartment, is super useful for segregating dirty clothes as the weekend progresses.
BUY NOW $169 (https://shop.lululemon.com/p/men-bags/Assert-Duffel/_/prod8530007?color=0001)
Tucker & Bloom Waxed Canvas London Duffel
Waxed canvas, once used for sails and weatherproof slickers, seems like the ideal fabric for parenting. The Tucker & Bloom Waxed Canvas London Duffel is based off this, and made even more durable with leather at high-wear points like the bottom, edging, and straps. Bandolier-like pockets made from high-contrast liner are super useful for keeping the interior organized, but two external pockets (one small, one large) are nice for essentials on the go.
BUY NOW $375 (https://shop.lululemon.com/p/men-bags/Assert-Duffel/_/prod8530007?color=0001)
Mountainsmith Adventure Office
The messenger-style Mountainsmith Adventure Office is all about the guy on the go. Cordura fabric is impervious to all but the most extreme cuts, while the 17-liter capacity is ideal for the parenting minimalist. Gobs of pockets, including several padded, are also used for the gadget fan. We loved the back panel sleeve, which let us slip it onto our rolling luggage when racing through the airport.
BUY NOW $80 (https://mountainsmith.com/adventure-office.html)
Timbuk2 Never Check Expandable Backpack
While 24 liters doesn't seem like a lot—you're not bringing the kitchen sink—we loved the Timbuk2 Never Check Expandable Backpack because of its versatility. Sure, sometimes we're gone for days, and its expandable zipper allows for another day of clothing and diapers, minimum. But when we're not hiring a house sitter, its compacted size is super easy to bring along. Pockets for bottles, iPads, and sundries all made this super useful regardless of the outing, and a padded back made it easier on our body regardless of distance.
BUY NOW $199 (https://www.timbuk2.com/collections/all-travel-bags/products/5620-never-check-expandable-backpack)
Mystery Ranch Urban Assault
The 21-liter Mystery Ranch Urban Assault separated itself because of one reason: ease of access. Where all on this list feature one main compartment, none lay it open to searching eyes as easily as the Assault, thanks to the ingenious three-zipper design. Made from Cordura fabric and YKK zippers, it's as rugged as its military pedigree suggests.
BUY NOW $139 (https://www.mysteryranch.com/urban-assault-pack)
American Giant Duffel
With all the fancy bags on this list, there's something charming about the simplicity of the American Giant Duffel. Made from hefty cotton duck canvas lined with nylon, it's sturdy and stolid, with multiple ways to carry it. This is the bag for guys who don't want to have conversations about the tech specs of their diaper bag.
BUY NOW $98 (https://www.american-giant.com/duffel/A1-8A-53.html?dwvar_A1-8A-53_color=olive&cgid=bags#start=1)
This article was originally published on