These Shirts Take A Licking
5 Stain-Resistant Shirts That Fight Spills And Keep You Looking Sharp
Parenting is messy. These shirts are engineered to defend against spills, spit-up, and whatever else comes your way.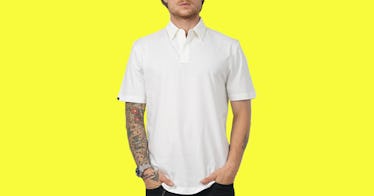 Parenting is messy business. But fighting back doesn't mean wearing only old tees or accepting that your favorite clothes will be forever-dotted with stains. Because the latest stain-resistant and stain-repellent shirts are more versatile than ever. The best ones feature durable stretch fabric, moisture-wicking qualities, and the construction of a classic button down. And they're damn near stain-proof.
What's the difference between stain-resistant and stain-repellent? Well, stain-repellent shirts are usually treated with a coating meant to repel liquids (or just about anything else you can think of), and stain-resistant shirts commonly have material woven into said shirt to prevent stains from setting in. You'll occasionally see the term "stain-fighting" as well, which is another way of referring to either type of shirt. The ones you'll see here are "stain-resistant" or "stain-repellent," but they all fit the right criteria in terms of style and performance.
There's no need to fear with these shirts: You're not sacrificing style and zipping up a hazmat suit when you wear a shirt designed to protect against stains. Stain-fighting shirts are actually more stylish and versatile than you might think. In fact, they're simply stylish shirts that have tech to keep them free of stains. Here are five to consider.
This article was originally published on