Pee-wee Herman Basically Destroyed The '80s Power Suit
You'd still be wearing your dad's giant shoulder pads if it weren't for this fashion icon.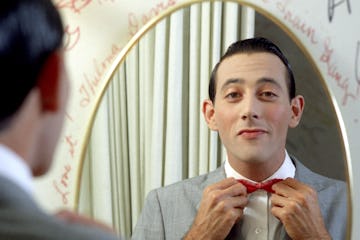 Michael Ochs Archives/Michael Ochs Archives/Getty Images
We all know Pee-wee Herman's Playhouse was an artistic masterpiece of children's TV. Visually, this is just literally true. The influence of the Playhouse's interior decor was a mish-mash of Memphis Milano colors, downtown New York street art a-la Keith Haring, tiki prints, and high-camp Americana. And we haven't even mentioned talking furniture. But within this maelstrom of eye-popping color and pattern-clashing riot, one thing stayed constant: Pee-wee's slate-gray shrunken-fit suit. Pee-wee was a man in uniform.
Here's the thing. Aesthetically, Pee-wee's iconic suits had a bigger, and much more positive impact on men's fashion than you might think. Thanks to Pee-wee we got the anti-power suit, which allowed men's fashion to escape an '80s prison.
Before Paul Reubens debuted Pee-wee in 1980, a range of comedians from Buster Keaton and Charlie Chaplin to Mr. Bean had created a history of exaggerating and playing with proportions of the classic suit in order to accentuate their awkward movements. The proportions of Pee-wee's suit had a similar effect on his comedy. The boxy jacket, shortened sleeves, and short narrow trousers were perfectly designed to not only give the impression of an overgrown child but to heighten the effect of Pee-wee's marionette-like energy. He was funny before he said or did anything, thanks to the suit. But, the suit had something else: the proportions were confident without being huge.
The aspects of the costume were well-calculated: the suit's light, neutral color was a calming, restful change from the madness, even if its wearer was notoriously hyperactive. The choice of a subtle Prince-of-Wales check pattern - rather than a mohair or sharkskin sheen or a tweedy or velvet depth - gave Pee-wee a cartoonish flatness that set him apart from his pointedly three-dimensional environs.
Pee-wee's style was '80s-does-'50s in a far more camp and subversive and less earnestly nostalgic way than the likes of Grease or American Graffiti. His glossily shellacked military-short hair was reminiscent of the cornfed American boys of mid-century educational films. His tiny bright red bow tie — a clip-on, befitting his childlike mien — when combined with the spotless pressed white shirt and gray suit, made him a trusted neighborhood nice guy or civil servant: the milkman, the soda jerk, the local postmaster. His outfit, down to his long white socks bespoke that of a harmless eccentric. Although his optic-white tassel loafers were arguably the most punk or new-wave touch to his costume — memorably replaced by disco platforms in the "Tequila" bar dance scene in Pee-wee's Big Adventure.
The Pee-wee silhouette didn't stay contained to the Playhouse, however. Anyone who has paid attention to the past two decades of menswear trends will be aware of the fact that the shrunken Pee-wee silhouette had enjoyed a renaissance — often on men whose physiques were far from Hermanesque. The most notable is in the runaway success of Thom Browne's American geek-prep tailoring. Browne is not the only designer to seem to be inspired by Pee-wee, but the link here is fairly obvious. Pee-wee didn't make Browne's suits happen, nor did Pee-wee invent this look outright. But, it's hard to argue that he didn't re-popularize the smaller silhouette of the suit in the 1980s, a time when men's suits desperately needed a makeover.
For those who grew up in the 1980s, men in suits in the media were typically — if not downright bad guys — at least squares. They were often desk-slamming bosses of the Gordon Gekko or J. Jonah Jameson variety. Their suits were power suits: Armani and Ralph Lauren with strong shoulders and aggressive pinstripes.
Those of us whose parents owned Talking Heads records might have been aware of David Byrne's anti-Pee-wee giant gray suit. But, as much as we love Stop Making Sense, the fact is, he wasn't singing "Burning Down the House" to us every Saturday morning in the '80s. Pee-wee communicated with kids, and as a result, his suit and style had a slightly bigger impact on at least two generations, even if that impact feels slightly imperceptible now.
Sure, there were a handful of suited oddballs in the '80s and '90s, vying for the attention of kids. But they were often on the gothic side of things, like Beetlejuice. But Pee-wee Herman was the one who showed that a suit could perfectly express your queerness, weirdness, and yes, even your masculinity, better than the big guys with giant shoulder pads.