Pee-wee Herman Was My Childhood Friend. Paul Reubens Was Harder To Know
For one writer, saying goodbye to Paul Reubens is painful, and complicated.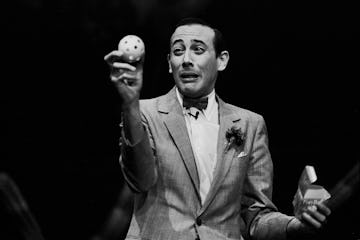 Paul Natkin/Archive Photos/Getty Images
We may receive a portion of sales if you purchase a product through a link in this article.
There's an odd ritual that takes place when a beloved celebrity passes away. There's the initial thought that it all must be untrue, the search for corroboration, the text messages to friends, and the mournful posts on social media. Part of the ritual includes trolls online and in our real lives, snarkily asking why we're so upset about someone we didn't know. But this week, I lost a celebrity I did know. He was my first and longest friend, and at times, as it sometimes goes with friends, my sparring partner. For years I received his Christmas cards, and then eventually, letters from his lawyers; but through it all, I never forgot the fun we used to have, talking to furniture, making ice cream soup, and screaming "real loud" whenever the secret word was said.
On July 30, 2023, the world lost Paul Reubens, the once-in-a-generation comic artist who entertained countless people as Pee-wee Herman — and while many celebrity passings hurt, this one hits differently.
My feelings come from my unique relationship with Reubens, but also because learning of his passing immediately triggered a long-forgotten memory of the first time I experienced him going viral, albeit in a pre-Internet age. I was 5 years old. Saturday mornings were for Pee-wee's Playhouse, so I was ecstatic when I heard that unmistakable laugh coming from the living room on a Saturday night. My parents were watching a local anchor on TV, arguably the most boring thing for a child to come across — and there he was, Pee-wee Herman, with all of his colorful Playhouse characters, screaming from the top of their lungs.
As my parents shifted their attention between me and the screen, I jumped between them screaming — "Pee-wee's on TV! Pee-wee's on TV!" While I can't quite remember if my father's tone was sardonic or sympathetic, his exact words are etched into my mind: "Enjoy watching him now," he said. "I don't think you're going to see Pee-wee Herman for a long time."
That was July 27, 1991, the day the report broke about the indecent exposure arrest that, for many people, would forever put a large asterisk next to Paul Reubens' name and career. However, for me and countless other kids who were in the purported targeted demographic for Pee-wee's Playhouse, the 22-time Emmy Award-winning show that completely revolutionized children's programming, the incident was more than a punchline. We were too young for the jokes, although that didn't necessarily stop adults from making them in our presence. Instead, it was like waking up and being told by your parents that your best friend had suddenly moved away without warning.
To this day, I still have trouble with goodbyes. For years I would joke that this emanated from Pee-wee Herman being swiftly pulled from Saturday morning television and his merchandise disappearing from toy stores overnight. I'm not so sure I was kidding.
But there was a modicum of hope. For starters, my dad said he didn't think I would see Pee-wee Herman for a long time — which sounds pretty darned equivocal if you think about it. But more importantly, I had seen my friend Pee-wee leave many times before, and he always came back.
Thanks to my grandfather's affinity for well-cataloged bootleg VHS recordings, I could recite every word of The Pee-wee Herman Show, Reubens' 1981 HBO special, even though it was aimed at adults. Toward the end of the hour, Jambi the Genie — portrayed by the late, incredibly talented, and underrated John Paragon — grants Pee-wee his wish to fly. In a deliberately low-tech special effect, Pee-wee, with his regular-sized human head, coasts against a black background with a disproportionately tiny puppet body, complete with a static cape.
"I had seen my friend Pee-wee leave many times before, and he always came back."
"If you're lucky like me, boys and girls, all your dreams are going to come true! Because, guess what, kids," he says, before angrily repeating the question after an insufficient number of audience members respond. "I'm going to share all my luck with you," he promises shortly before flying off into the sunset after declaring himself "the luckiest boy in the world."
While the rest of the world had to wait four years for Paul Reubens to make his foray into feature films, the subsequent recording on that same bootleg VHS was Pee-wee's Big Adventure, Tim Burton's first full-length movie. The surprise hit earned close to six times its $7 million budget, catapulting the star and his novice director into the stratosphere. At the conclusion of the film, Pee-wee is reunited with his long-lost bicycle and Warner Bros. decides to make a movie based on his life — very meta! His friend Dottie (played by E.G. Daily, whose unmistakable voice is known to millions as Rugrats' Tommy Pickles, among other roles) asks him to stay and watch the movie within a movie.
"I don't have to see it, Dottie," he says, sounding every bit the rebel he professed to be earlier in the film. "I lived it." With that, the two of them ride away.
While my cousin had an episode on (a legal) VHS, I was mostly acquainted with Pee-wee's Playhouse by watching on Saturday mornings. My earliest memory is of watching the show in my crib — I was born nine months before Playhouse premiered in 1986 — and my love for Pee-wee Herman only grew as I became older. For the record, I don't care how many roles he plays, Laurence Fishburne will always be Cowboy Curtis to me.
Like his earlier onscreen escapades, every episode of Pee-wee's Playhouse's five-season run ended with a goodbye. Pee-wee would hop onto his scooter, say the secret word of the day one last time, and fly into Puppetland, where clocks, globes, windows, chairs, and flowers spoke — and every day was lovingly interrupted by the king coming over to the screen a classic cartoon. Time and again, Pee-wee Herman would leave, but he would always come back.
I was too young to see his triumphant return to MTV, a network that helped him develop cult status among college kids, for its 1991 Video Music Awards in the fall after his arrest, but I'd occasionally catch Paul Reubens, who I later learned was the man behind the curtain, in films like Dunston Checks In and Matilda, both released in 1996; 1999's Mystery Men; and 2001's Blow.
Perhaps his most unlikely comeback began in 2009 when Paul Reubens announced that he was returning to play his beloved character on stage again for the first time in decades. It felt as if my old friend, whom I thought I'd never see again, had reached out through social media and wanted to reconnect — because that's exactly what it was. When tickets went on sale, I snagged a pair right away, even though the show was in Los Angeles, I live in New Jersey, and I had no idea whom I would be going with.
But something else happened in 2009. Just as Paul Reubens' passing unlocked a memory in me this week, learning of his announcement unlocked others. I began reflecting on the many ways that Pee-wee's Playhouse, the Pee-wee Herman character, and Paul Reubens had impacted my life. To put it mildly, I was probably pretty obnoxious as a kid — and I owed so much of it to the influence of Pee-wee! There is a lot of home video footage of me doing the "Tequila" dance from Big Adventure, screaming, "I know you are, but what am I?" and playing with my Pee-wee Herman doll, which I brought with me everywhere.
I started reaching out to artists who had collaborated with Paul Reubens throughout his career via social media to tell them how much their work had shaped my sense of imagination, humor, and personality, and much to my surprise, many of them shared the ways their time working on various Pee-wee projects changed them as well. Several people said they hadn't spoken about working with Reubens in decades. A few had never been asked about that formative time in their lives at all.
I mentioned to a friend — one who, unlike Paul Reubens at that time, actually knew my name — that I was having these conversations, and he suggested I write a book. The thought had never crossed my mind, but I decided to give it a shot. Casual conversations soon gave way to formal interviews, and during an early one, one of the Playhouse puppeteers asked if I had spoken to Paul Reubens yet.
The thought of contacting Reubens directly was very intimidating to me. He was the first nonfamily member I admired and someone I spent much of my entire life imitating in overt and subtle ways. I hoped to delay emailing his team until I felt I was ready, but the puppeteer made me a generous offer: "I have to return his phone call later today," he said. "Want me to fill him in for you?"
This seemed like an amazing opportunity. I said yes, and the next day, I received my first letter from one of Reubens' lawyers.
As it turned out, he was deeply skeptical of a book looking into his career, and despite my attempts over several years to explain how much he, singularly, influenced my life, and how I was approaching this project from a place of love, I couldn't persuade him or his team to give their blessing to the book, Inside Pee-wee's Playhouse, before it was published.
Once it was published, I imagined him being impressed at the never-before-seen photos I had uncovered, some of them even he hadn't seen before, because the negatives had been sitting in a photographer's garage for more than two decades. I hoped he would appreciate that I reached out to so many of the brilliant stop-motion animators and went into great detail about the nearly two-and-a-half-minute-long opening title sequence, a true masterpiece. I envisioned him smiling as he flipped through the pages and perhaps even secretly regretting not participating in what clearly was a love letter to someone I considered to be a creative and, as I learned over the course of writing the book, often complicated genius.
On some level, even though I was an adult, my inner child struggled to reconcile my long-lost friend's distrust. After all, I had remained a loyal fan for more than two decades, even when it resulted in being on the receiving end of the occasional joke and snide comment. I wanted to remind the world of not only his brilliance but of the ways in which his work influenced a generation of kids who would grow up to be quirky and creative.
"On some level, even though I was an adult, my inner child struggled to reconcile my long-lost friend's distrust."
Unfortunately, while some of his longtime collaborators covertly suggested that he enjoyed the book, and had even given away copies as gifts, I never got confirmation from my old friend.
Until this week, there was some part of me that always believed my Pee-wee Herman story would have a different ending. My relationship with both character and creator had changed, but that happens with friendships from time to time. I had learned through the interviews I had conducted for the book that it was common for people to fall out of favor with Reubens, sometimes permanently; but even though I knew this about the real-life person I had butted heads with professionally, I secretly wished that my old friend and I would find some way to reconnect, and as he had done time and again, he would come back.
It's hard to accept that this isn't the case. It's also hard to believe that all of the many Pee-wee Herman projects that he had teased over the years — except, perhaps, an HBO documentary that was announced in 2021 — will never come to fruition. Pee-wee's Big Holiday, a 2016 Netflix film produced by Judd Apatow, will forever be the last time the character appears in a movie.
But as I scrolled through social media this week and saw the many posts and tributes to Paul Reubens and the wonderfully unique character he created, I unexpectedly felt a sense of camaraderie and relief. Pee-wee Herman was my best friend, but he was the best friend to many other people too. We didn't know it, but so many of us were influenced by the quirky "kid" with the big laugh who taught us to scream real loud.
In 1987, he shared his mission with Rolling Stone: "I'm trying to illustrate that it's OK to be different — not that it's good, not that it's bad, but that it's all right. I'm trying to tell kids to have a good time and to encourage them to be creative and to question things."
There are generations of people who grew up creating, questioning, and embracing what made them different because of Pee-wee Herman — and we're all mourning this week. Some of the memories are wonderful, others are more complicated, but then that's the way friendships work.
Pee-wee's Playhouse streaming
You can purchase seasons and episodes of Pee-wee's Playhouse to stream online on Amazon, YouTube, and elsewhere.