Jason Bateman And Jason Sudeikis Duel Out Dad Styles
What are you wearing to the game?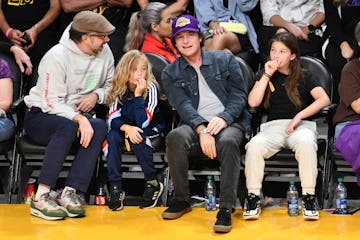 Allen Berezovsky/Getty Images Sport/Getty Images
We may receive a portion of sales if you purchase a product through a link in this article.
There's something wonderfully familiar in the image of Jason Sudeikis and Jason Bateman sitting with their kids at a recent Lakers game. Sure, the seats are court side. Yes, the cameras are pointing at these two A-List actors and filling up the stock photo sites. They probably get to meet the players after or have doors opened for them that you and I don't get to go through. But they look so casual — two dads showing up for the game with their kids.
Let's be honest, their outfits play a big part in giving this feeling. Both Bateman and Sudeikis brought their best dadcore style. These two men have given us a brilliant side-by-side of dad-dressing perfection. On one end you have the more carefully curated look of Sudeikis pulling off a flatcap and branded hoodie, form-fitting pants, and drool-worthy sneakers. On the other is Bateman, rocking denim and a t-shirt, nondescript black slip-on shoes and a Lakers' cap for good measure.
You might be tempted to ask, who wore it best? That's not the point. These two dads took their kids to a great, close game (the Lakers lost to the Nuggets 111-113) and they looked great doing it. And so can you.
Jason Sudeikis Curates His Game Day
The form-fitting pants, the Forward Space hoodie, the somewhat rare Air Max's, the rimmed glasses, and of course that stylish flatcap: Sudeikis' outfit isn't exactly game day for your average man. That's to be expected, the Ted Lasso star is not your average man. Known for his massive collection of sneakers at home (reportedly around 250 pair) not to mention his rotating selection of stylish athletic wear, he brings his full game here. The two articles worth hunting down for us mortals — that is, people who don't have multiple Instagram feeds follow their every style choice — are the sneakers and flatcap. Have at 'em.
Jason Bateman Is Casual To The Core
Ok, so Batemen's clean Lakers hat that doesn't really match the jeans and jeans jacket. But it's so right. Bateman is assured enough to not need to dress like a player, but to don the kind of outfit most dads have, wear to death, and love. Because nothing exactly stands out here, just look in your closet and make sure you love your jeans and t-shirt combination. That's the heart of this look — and a staple for every man's wardrobe.