Smell Your Best
These colognes, deodorants, and body sprays deserve a prized spot in your scent rotation.
by Fatherly Editors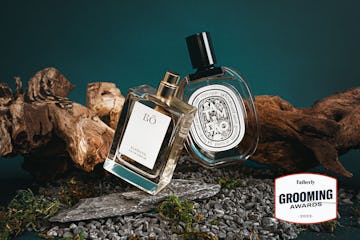 What should I smell like? At the end of the day, a man's scent — or at least the one he adds to cover or blend in with his native musk— is a deeply personal one. And in so many ways weighing colognes or body sprays against each other is an argument with oneself. It's a subjective judgment. I like this smell. I don't like that.
Given this, if whatever you have is working for you — and your partner, friends, and maybe your colleagues — great. You have the best scent. But there are some criteria that separate good scents from great. An herbal nuance, the lack of that alcoholic sting, the je ne sais quoi that triggers a unique reaction for the million of olfactory cells inside your nose, each burdened over 500 specific receptors to trigger a feeling. One's scent is a fine art — and these four scents, nominated and beloved by a panel of Fatherly judges, show real elevation. You might have your scent, but go ahead and try something new.
Best Office-Friendly Cologne: House Of Bo Espiritu
For those of us who still walk into an office, a scent can be as important as a wardrobe. You don't want to just douse yourself in cologne and call it a day. Office-friendly fragrances don't have to be boring either. Espiritu EDP by House Of Bo is a uniquely pleasant product that has the makings of a signature fragrance. It's surprisingly subtle but sure to turn a few heads (in a good way). "You wouldn't expect a woody, leathery, floral musk to blend so well but it smells amazing," says Fatherly Style Editor (and scent-obsessive) Saleam Singleton, who swears by the independent brand that was launched in 2021. "It stands out without overpowering the room but you're bound to become the best-smelling man in the office."
Best Everyday Cologne: Diptyque Tam Dao Eau de Toilette
Sandalwood has emerged as the go-to fragrance in recent years, with brands like Le Labo and Tom Ford honing in on the earthy, universally-appealing scent. Diptyque's Tam Dao has a soft, subtle bit of sandalwood — a gentle waft that is anything but overbearing. Men's grooming expert and writer Dan Michel calls the scent the perfect everyday cologne: memorable, and understated, with notes of cypress and myrtle. It's warm, earthy, and intoxicating — a universal crowd-pleaser.
Best Special Occasion Cologne: Parfums de Marly Haltane
If you're looking for a statement scent and don't want to smell like everyone else, try out Parfums de Marly Haltane. The aromatic, woody smell blends the kind of notes that you might hear coming out of the Sonoma tasting room: bergamot and clary sage with smokier vetiver, leather, and musk. It's a lot. But the final effect is, like a fine wine, intoxicating without being too bold. "This is a powerful and unique fragrance that screams special occasion," says Singleton. "It lasts all day when applied in small dabs on the pressure points and has a light sweetness."
Best Body Spray: OffCourt Body Spray
Body Sprays have long carried a bro-ish stigma. It's time to get over it (Axe's obnoxious teen-focused marketing peaked in 2010, folks). OffCourt is helping to make body spray a more serious part of the grooming routine with a trio pack of three distinct scents (they can be purchased separately). These are less about covering funk and more about elevating your presence. "Body sprays have gotten a bad reputation over the years, for both a lack of true performance and a scent that didn't perform all that well, either," says men's fashion and lifestyle writer Beau Hayhoe. "OffCourt's Body Spray dispels with both of those old notions handily. It delivers in terms of performance and a refreshing, not overpowering scent."