The Best T-Shirts For Men, According To A Top Stylist
Yes, even if you don't look all that good in a T-shirt.
by Donna Freydkin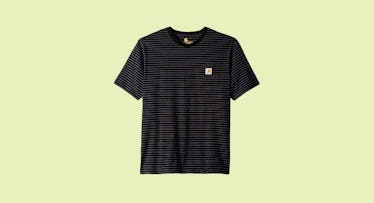 Men live in their favorite T-shirts. They work in them on Saturdays. They take their partner out for dates in them. They cook in them, work out in them, and, when they lie down at the end of a long day, odds are they sleep in them. For that reason, the best T-shirts for men don't have to be designer or overly stylish. Rather, they have to take into account their myriad uses and provide a fitted look that elevates a man's appearance through the long days of wear.
It's the fit that makes the T-shirt, says Micaela Erlanger, a top Hollywood stylist who's dressed Common, Jared Leto, and David Boyega among others. Her guiding T-shirt principal is that each should be between not-too-slim and not-too-loose.
"You want to go for a looser-fitting silhouette, not a slim fit," she advises. "If you need something for a stockier, less-toned body, you want to go for something that is regular fit."
A common mistake she sees a lot of guys make is going up a size too high. "You never want to buy your shirt too big," she warns. "Don't go up a size. It won't fit you properly. It might be too long. You want to something that will have width and girth in the actual dimensions." In other words? Find a different brand who's medium is more your medium. Not the same brand's large.
For guys who may not work out as much, Erlanger says to avoid modal or jersey blends and opt for thicker, sturdier cotton. She always says to avoid T-shirts that are too thin.
With all of this advice in mind, here are the best men's T-shirts to check out. All are soft, breathable, and very wearable. Just be sure to try one on so you know the fit is right for you.
The Best Men's T-Shirts
Every product on Fatherly is independently selected by our editors, writers, and experts. If you click a link on our site and buy something, we may earn an affiliate commission.
This article was originally published on