The Best Natural Deodorants for Men That Really Work
Natural deodorants have come a long way since their pine-scented days.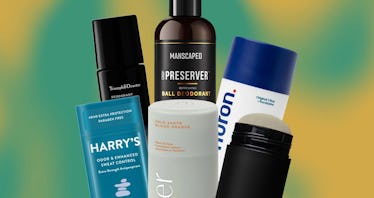 The best natural deodorants for men are better than they've ever been. Seriously. For the longest time, "natural deodorant" was a euphemism for body odor. As portrayed in a famous Portlandia sketch, they had to be applied in a frosting-thick layer and then only "kind of" worked. Any sensitive man who tried to use an organic deodorant was elbow-deep in onions by midday. But just like everything else in our modern life, aluminum-free, organic deodorant options have advanced to the point of actually working — really — and working pretty damn well. Traditional antiperspirants use aluminum salts to keep pits sweat-free, clogging pores to prevent escape. Aluminum-free deodorants for men achieve similar results through a totally different process.
Rather than using ingredients that could be potentially harmful, natural deodorants for men skip the hyphenated and multisyllabic additives and instead utilize naturally occurring additions like clay, arrowroot, tapioca starch, and baking soda to absorb wetness. Antimicrobial ingredients like organic botanicals and oils swat down the stank. In today's age of space exploration and effective vaccines, it's about time the technology of natural deodorants met the needs of the modern man. Here are the best natural deodorants for men.
Every product on Fatherly is independently selected by our editors, writers, and experts. If you click a link on our site and buy something, we may earn an affiliate commission.