7 Great Men's Vests For Fall Layering
These seven good-looking vests are warm, comfortable, and ideal for layering on those deceptively cool fall days.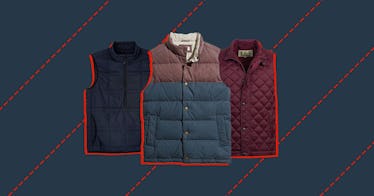 Fall is the season of layering, and few pieces of clothing fit the seasonal requirement like a great men's outdoor vest. Yes, we know, the vest has been experiencing a bit of a crisis these past years. It's been memed to death and has a bit of a bad rep because of associations with certain businesses. But, no matter. The vest is an outwear staple that still belongs in your closet.
Modern men's outwear vests blend technical materials and functionality with a nice dose of style. Often filled with down and usually featuring weather-fighting exterior fabrics like ripstop nylon or even waxed cotton, vests can be worn atop just about anything. A vest works in a pinch over a thermal base layer or a breathable, stylish sweater for day hikes and weekend coffee runs. The best men's vests can also be paired with rugged style staples like a chambray shirt and henley for casual autumn brewery-hopping. Casual fabrics like flannel and chambray work well with them, too.
Interested in stepping up your vest game? Below you'll find some of our favorite new offerings. A word to the wise: Whatever vest you wear, don't throw it on over a dress shirt. Unless, that is, you want to become a walking meme.
This article was originally published on