Face The World
The six best creams, lotions, and SPFs for your face.
by Fatherly Editors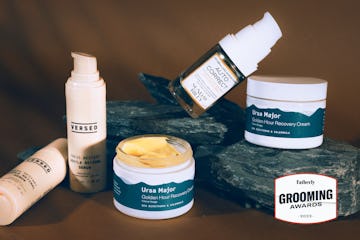 New dads really get to know their own faces. It's common enough to look yourself in the mirror after staying up for 48 hours in the chaos of new dad-hood and make sure you're still there, changed though you may be as you transform into a father. That change also shows up in less subtle ways — bags under the eyes, increasingly unkempt stubble, puffy cheeks, and… is that a pimple? If you take any lessons from that sleepless time, make it this: You need to take care of your face.
A face washing routine that includes a cleanser, moisturizer, retinol, SPF, and eye cream isn't a fussy affair. It's a ritual that will help you through a lifetime of weathering. Your newborn is just the beginning and life has plenty of stress, sleeplessness, and worthy hurdles to throw your way. Get a routine that at least lets you face it all with, well, your best face.
Best Cleanser: CeraVe Hydrating Facial Cleanser
A face cleanser doesn't need to be fancy, but it does need to work. A good cleanser removes dirt and grime, but leaves your natural skin oil so that you can get rid of irritants that might cause breakouts without drying out your face. It's a balance that the affordable, easy-to-find CeraVe (typically about $17 for a 12-ounce bottle) does so well. There's a reason why the brand is so well-loved — they've got the formula down, not to mention the right price.
Best Retinol: Versed Press Restart Gentle Retinol Serum
Retinol is the skin care industry's golden child — and honestly, it's worthy of the moniker. A form of vitamin A, retinol has been proven by science to do everything from smooth wrinkles to help with acne, which is why incorporating a retinol serum into your skincare routine can make such a difference (and why so many dermatologists recommend it). The downside of retinol is that it can sometimes be irritating, which is why Versed's version is so good — its formula comes with anti-inflammatories and antioxidants that are just, well, gentler. "We all want the results of a retinol without the side effects," says Fatherly Style Editor Saleam Singleton. "This is an effective gentle option, with no red, peeling skin."
Best Moisturizer: Ursa Major Golden Hour Recovery Serum
Inspired by the founders' love of the great outdoors, Ursa Major is a skincare brand that offers clean, minimalist products made with natural ingredients to help you achieve what they call a "healthy mountain glow." The Golden Hour Recovery Cream is light and moisturizing, without feeling oily or heavy on the skin. "I tend to gravitate towards face creams that are fast absorbing and don't leave my skin feeling greasy," says grooming expert Barney Bishop. "Ursa Major's face cream leaves my face feeling moisturized and revived after my morning shave." It also happens to smell great — a blend of sweet neroli, sour rose, and spicy sandalwood. Inhale, and you can almost picture a calmer version of yourself going on a forest stroll.
Best Face SPF: CosRX Aloe Soothing Sun Cream
When it comes to overall skin health, nothing is more important than wearing sunscreen daily. That is, every. damn. day. We're not talking about the thick, gloppy, and generally unpleasant SPFs that our parents slathered on us when we were little — there's a new generation of sun creams. Case and point: CosRX's SPF, a product that feels more like a lightweight moisturizer than a traditional SPF, and sinks in instantly without leaving a white cast. "I've got pretty oily skin, especially in the summer," says grooming writer Bryan Levandowski, "but I can also get quite sensitive, and what I love about this is that it goes on really creamy, but melds with your skin and never looks greasy. Plus, it's SPF 50, which is the standard, and the protection really lasts." This SPF rings in at just $14, so feel free to reapply copiously, and often.
Best Eye Cream: Sunday Riley Auto Correct Eye Cream
You can never underestimate the power of a good eye cream — a few dabs in the morning can help erase the signs of the kind of back-to-back long nights that only parents and college kids know. But it can be an uphill battle to find one that gets the job done. While no eye cream is a cure-all, the right product can help improve your overall appearance. Sunday Riley's Auto Correct might just bring the search to an end. "I find this to be an effective eye cream for starting the day," says Singleton. "It helps to depuff my eyes and make me look rested and fresh, especially before hopping in front of the camera."
Best Concealer: Ilia Super Serum Skin Tint
There comes a time when a guy has to put his best face forward — and concealing imperfections becomes a priority. So don't be shy about covering those dark circles or that breakout that just won't go away. Go ahead, bite the bullet, and invest in a good cover-up (and yes, it's makeup). Ilia's Super Serum Skin Tint is lauded for its buildable formula that's virtually "your skin, but better." This means you won't have to worry about looking like you're wearing makeup at all. Levandowski counts Super Serum Skin Tint among his favorites: "It can be layered and always looks natural," he says. Plus, there's a hydrating ingredients like hyaluronic acid and SPF 40 in there, which means you're protecting and moisturizing your skin as you cover.
Photographs by Xin Xin
Photo Director: Alex Pollack