The Best Men's Combs, According to a Master Barber
A good comb helps your hair look fuller and healthier, two things that men of a certain age might appreciate. And not all are created equal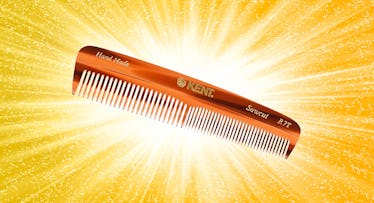 Used to be a man always carried a pocket comb. Those days are more or less gone. But men's combs are extremely useful. In fact, the best men's combs actually your hair look fuller and healthier, two things that men of a certain age might appreciate. The best types of combs do this by spreading the natural oils around follicles. So it's worth having one in your pocket — or at least in your dopp kit.
As not all combs are created equal, we sat down with Martial Vivot, a French-born master barber and owner of Martial Vivot Salon Pour Hommes, to talk about what makes a good one.
"The most important thing," says Vivot, "is that you want to avoid plastic." That seems like difficult advice to follow considering the vast majority of high-quality combs are made with cellulose acetate, a type of plastic. But what Vivot means is that one should avoid the standard petrochemical plastic, the kind that makes up those cheap-o black combs you find at most drugstores. This type of plastic both causes static — "the enemy of hair," says Vivot — and easily chips, turning the teeth of a comb into scalp-piercing needles. Holding a plastic comb before him and peering at the pointy teeth, Vivot shakes his head in disgust "Look at these," he exclaims, "they'll cut your scalp right up!"
In terms of leveling up, many high-quality combs are made of wood. The reason? "It's keratin combing keratin," Martial says excitedly, adding that this won't react poorly with your hair.
It's not just the material that determines the quality of the comb; it's the manufacturing, too: the best men's combs are saw-cut then hand-finished to refine the polish and smooth the teeth. In terms of manufacturing, the thing to avoid, says Vivot, are injection molded combs which yield extremely sharp teeth.
"A comb should be gentle on your scalp," he explains.
Who knew there was so much to a comb? Keeping this criteria in mind, here are the best combs for men at all price levels to seek out.
Best Men's Combs
Every product on Fatherly is independently selected by our editors, writers, and experts. If you click a link on our site and buy something, we may earn an affiliate commission.
This article was originally published on