The Best Eye Creams to Banish Wrinkles, Dark Circles, and Bags
Because we can use all the help we can get.
by Donna Freydkin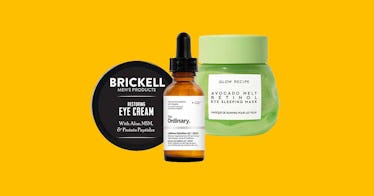 Eye creams are to your anti-aging skin care regimen what open bars are to weddings: a must. Dark circles, eye bags and wrinkles may all be natural signs of aging, but the right products with the right ingredients can make a big difference in your appearance. There's no reason to let Father Time, or exhaustion, walk all over you. In choosing an under-eye cream, it's essential to find a product that meets your particular needs, so we've tailored our recommendations accordingly: the best eye cream for wrinkles and puffiness, the best eye creams for dark circles, and the best eye cream for bags, respectively.
"An eye cream is an important part of your daily skin care regimen, however, there is not one eye cream to solve every issue," says Dr. Joshua Zeichner, the director of cosmetic and clinical research at the department of dermatology at Mount Sinai Hospital. "It's important to choose an eye cream that addresses your specific need. Issues around the eye include puffiness, darkness, hollowness, wrinkles and skin laxity."
Some eye creams cost more than a set of skis, but the best eye creams aren't necessarily the most expensive, so we've focused our search on affordable products that work; use safe, proven ingredients recommended by dermatologists; and can stand by the claims they make about their ingredients. The skin around the eyes is thinner and more sensitive, so it's also important to choose ingredients that won't overwhelm fine pores or cause irritation; ingredients like propylene glycol, formaldehyde, MDMD hydantoin, and mineral oil are better avoided.
And while clean beauty is a very, very popular term, it means nothing and isn't regulated whatsoever. So read the ingredients and do patch tests if in doubt. "Unfortunately, many companies may make the claim that they only use 'clean' ingredients, but don't stay true to that promise," says Dr. Nava Greenfield of Schweiger Dermatology Group.
The Best Eye Creams for Puffiness and Under-Eye Bags
Under-eye bags are a wonderful byproduct of aging. "Under eye bags are a combination of vasculature that is visible beneath the thin skin of the eyelid together with the swelling that occurs during times of body stressors, such as too little sleep," says Dr. Greenfield. She suggests looking for products that contain retinols, vitamins C and B, and hydrating ingredients like hyaluronic acid and oils. Several of these products also contain good old caffeine — "Caffeine helps constrict blood vessels to remove excess fluid and minimize the appearance of under-eye bags," says Dr. Zeichner.
The Best Eye Creams for Dark Circles
Dark circles develop under the eyes when we haven't gotten enough sleep, and more generally as we get older — shadows cast by puffy eyelids can give the appearance of dark circles, and the hollows under our eyes can become more pronounced as we age.
"If you have dark blotches under the skin, look for an under eye cream that contains vitamin C. This potent antioxidant blocks production of abnormal pigmentation and can help lighten dark under-eye circles," says Dr. Zeichner.
The Best Eye Creams for Wrinkles
If you don't have any wrinkles yet, perhaps you won the genetic lottery. But if you do, you know wrinkles are the lines and creases that form in your skin and are especially noticeable in the area around your eyes and mouth. Some are hereditary. Others are the result of sun damage. Ingredients like hyaluronic acid and glycerin "can temporarily improve the appearance of the peri-ocular skin," says Dr. Greenfield, though "you should use a retinol or retinoid to help stimulate collagen repair and synthesis."
"With age, collagen in the skin becomes weak, leading to wrinkling. Retinol stimulates collagen to strengthen the skin foundation and minimize the appearance of lines," says Dr. Zeichner. "And if you've noticed skin becoming droopy and weak, look for under eye creams that contain lifting ingredients that help restore the skin's scaffold — botanical ingredients have been shown to strengthen the skin."
Every product on Fatherly is independently selected by our editors, writers, and experts. If you click a link on our site and buy something, we may earn an affiliate commission.