Best Deodorants for Men Who Want to Smell Good and Sweat Less
These smell good and last all day.
by Lexi Dwyer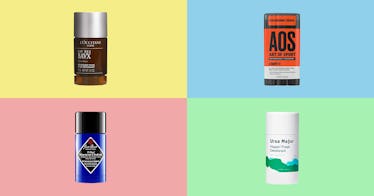 Most men don't really give that much thought to their deodorant or antiperspirant. They look at the offerings at the aisle, maybe pop a few caps and give each a quick whiff, and then make their choice. Or they stick to the same deodorant they've had since their pit hairs first sprouted. But if you've been using the same brand since puberty or are just blasé about the brand of choice, you're missing out. Not only are there are so many products today — from natural deodorants to pastes, roll-ons, gels, sprays, and even towelettes — but the best deodorants for men are tailored for specific needs. Want to smell good? The choice matters.
The first factor to consider is whether you purchase a deodorant or antiperspirant (or both). As the names suggest, deodorants fight the stink, while antiperspirants use small amounts of aluminum salts to block your pores from sweating.
See more: Best Men's Colognes
The other factor to consider when choosing any men's deodorant is skin irritation. Although you might need to practice trial and error to find a formula that works for you, Dr. Ken Howe of Wexler Dermatology in New York City says that certain ingredients, usually scented ones, are the common culprits. These include geraniol, an alcohol found in rose oil and other essential oils; eugenol, a scented compound found in clove leaf oil; hydroxycitronellal, another popular synthetic fragrance ingredient; and propylene glycol, a petroleum-based compound that is sometimes used to give deodorants or antiperspirants a slippery feel. Another culprit is aluminum. No, there's no big, convincing studies that it can cause cancer or Alzheimer's, but it can cause irritation among those with sensitive skin.
So it's time to get a new product. Here are some of the best men's deodorants, antiperspirants, and, yes, ball deodorants to consider.
Every product on Fatherly is independently selected by our editors, writers, and experts. If you click a link on our site and buy something, we may earn an affiliate commission.
Best Deodorants for Men
Best Antiperspirant for Men
The Best Ball Deodorant For Down Under
This article was originally published on